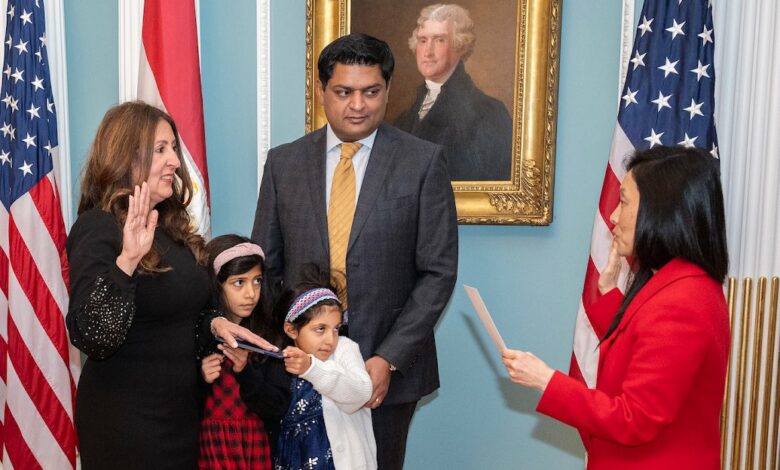 Ambassador Herro Mustafa Garg was sworn in as the US Ambassador to Egypt.
The US Embassy in Cairo on Wednesday said that Mustafa will assume her duties at the embassy during this prominent time in strategic bilateral relationship and enhance the joint efforts of the two countries to achieve stability, security, and prosperity in the region, the Plus Mubasher website reported.
Who is Herro Mustafa?
Mustafa was born in Erbil in the Kurdistan region of Iraq, and spent two years of her childhood in a refugee camp.
Her family sought asylum in the US in 1976, as her father was a Kurdish political activist and opponent of Saddam Hussein's regime.
She graduated from Minot High School in 1991 and received her undergraduate degree from Georgetown University's Edmund A. Walsh School of Foreign Service in 1995, where she studied national security and the Middle East.
She also earned a master's degree in international relations from the Woodrow Wilson School of Public and International Affairs at Princeton University in 1997.
After graduation, she ran a Kurdish studies NGO in the US.
She then traveled to Bosnia to supervise provincial elections and served as senior editor for the Emirates Center for Strategic Studies and Research in Abu Dhabi, United Arab Emirates.
An active political career
Mustafa joined the US Diplomatic Service in 1999 and has served in Athens as Political Officer for Human Rights and Trafficking, in Beirut as Consular Officer, in Washington, DC as Iran Desk Officer at the National Security Council under Elliott Abrams, and Special Assistant to Secretary of State Condoleezza Rice and Under Secretary of State for Political Affairs William Burns.
In Iraq she served as Coalition Provisional Authority Coordinator for Nineveh, headed by Paul Bremer, and was Vice President Joe Biden's Senior Advisor for Middle East Affairs from 2009-2011.
She previously served as Political Minister and Counselor at the US Embassy in India, and has been Deputy Chief of Mission at the US Embassy in Portugal since July 2016.
Later, Mustafa served as acting US Ambassador to Portugal in 2017, and was nominated by former President Donald Trump to serve as US Ambassador to Bulgaria in 2019.