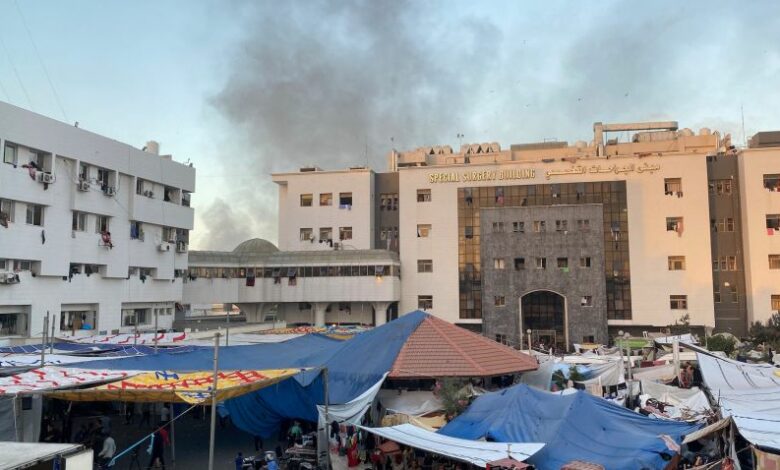 Gaza's largest hospital, Al-Shifa, has become a flashpoint in Israel's war in the enclave, which began when Hamas militants crossed the border into Israel on October 7, killing around 1,200 people.
Palestinians and humanitarian agencies say the current fighting in and around Al-Shifa is proof of Israel's wanton disregard for civilian life in Gaza, while Israel accuses Hamas of using the medical center as a shield for its operations.
Since launching its operation at Al-Shifa this week, the Israel Defense Forces (IDF) claimed it found a tunnel shaft and military equipment, but has yet to show proof of the large-scale command and control center it alleges is there. Hamas denies the allegations. CNN has not verified the claims of either Israel or Hamas.
The UN meanwhile is calling for access to Al-Shifa, warning that hospitals should not be used as battlegrounds for any side. "This is precisely where you need an independent international investigation, because we have different narratives," said Volker Türk, the UN High Commissioner for Human Rights. "You cannot use civilian, especially hospitals, for any military purposes. But you also cannot attack a hospital in the absence of clear evidence."
The hospital is a key shelter for Palestinian civilians fleeing Israeli bombardment in Gaza, currently estimated to be sheltering over 7,000 displaced people in addition to medical staff and patients.
Here's what we know so far.
What does Israel say?
Israel has repeatedly accused Hamas of operating from tunnels beneath the vast complex of Al-Shifa hospital.
In a presentation to the media last month, Israeli military spokesman Daniel Hagari claimed that Hamas was directing rocket attacks and commanding operations from bunkers underneath the hospital building, which he said were linked to the network of tunnels that Hamas had dug underneath Gaza City.
The IDF also published an "intelligence-based" illustrated video of what it claims the Hamas headquarters under Al-Shifa looks like. The video shows a 3D diagram of the hospital, which moves to show an animated network of purported tunnels and operation rooms.
CNN cannot independently verify Israel's claims that Hamas is operating from the hospital.
The White House has backed Israel's claims, saying that Hamas was storing weapons and operating a command node from the Al-Shifa hospital in Gaza, citing US intelligence.
Senior US officials have declined multiple times to expand on how they are able to back up Israel's claims, as the US does not have a presence on the ground in Gaza.
How has Hamas responded?
Israel's claims have been vehemently denied by Hamas, the Gaza Health Ministry, and hospital officials.
The director general of the Hamas-controlled health ministry, Dr. Medhat Abbas, told CNN that hospitals in the enclave "are used to treat patients only" and are not being used "to hide anyone."
After Israel launched its offensive, Hamas accused the US of giving Israel "a green light … to commit more massacres against civilians" by amplifying what it called a "false narrative" that a militant command center lies somewhere inside Al-Shifa.
What evidence has Israel given?
After launching the raid on Wednesday, Israel said soldiers had located a room in the hospital where they found, "technological assets, along with military and combat equipment used by Hamas."
"In another department in the hospital, the soldiers located an operational command center and technological assets belonging to Hamas," the statement said, claiming "that the terrorist organization uses the hospital for terrorist purposes."
Hamas has rejected both findings as "baseless lies."
The bodies of two Israeli hostages – a 65-year-old woman and an Israeli soldier – were also found near the vicinity of Al-Shifa hospital this week, Israel's military said.
To bolster its claims that Hamas has a control center under the hospital, Israel's military released video showing a tunnel shaft in the grounds of Al-Shifa. In the footage, the shaft appears to be reinforced with concrete. Exposed pipes and cabling can also be seen close to the surface. CNN cannot independently verify what the tunnel is used for, and the IDF is yet to offer clear evidence that the shaft has a military purpose.
Israel says it is still working to expose tunnel infrastructure and added it will provide further evidence in a "few weeks."
Israeli army spokesman Jonathan Conricus claimed mobile items like guns could have easily been removed before Israeli forces arrived. He claimed soldiers at the hospital complex were "proceeding one building at a time, searching each floor, all while hundreds of patients and medical staff remain in the complex."
'Children are starving'
Israel's assault on Al-Shifa has compounded a grim humanitarian crisis inside the complex, Palestinian health officials say.
At least 41 patients, including three premature babies, lost their lives at Al-Shifa Hospital between November 11 and November 16 due to the lack of electricity amid Israel's fuel blockade, according to a report published by the Palestinian Authority's Ministry of Health in Ramallah on Friday citing medical sources from the Hamas-controlled enclave.
Most of the ICU patients who relied on ventilators have died due to the lack oxygen and fuel to power the hospital's generator, Dr. Ahmad Mofeed Al-Mokhalalati, the head of the burns department at Al-Shifa Hospital told Qatari TV channel Al-Jazeera over the phone from inside the hospital on Friday.
Dr. Al-Mokhalalati noted a significant decrease in the number of premature babies in their care with little hope for the survival of the remaining infants under the current conditions.
"There is no water or electricity in the main buildings of the compound," he said.
Surgical operations have come to a halt due to the lack of electricity. This has led to an increase in suffering, especially among children who are now facing severe intestinal infections, a direct consequence of the unavailability of clean water, Dr. Al-Mokhalalati added.
He mentioned that although the Israeli forces promised to provide food, the supply delivered was grossly insufficient, enough for only 40 percent of those inside the hospital.
On Thursday, Mohammad Abu Salmiya, the director of Al-Shifa, spoke of desperate conditions inside the hospital affecting over 650 wounded people, 36 premature babies, 45 kidney patients, and 5,000 displaced people.
In a phone interview with Al-Jazeera Arabic from inside the hospital, Abu Salmiya said children were starving, especially those who are still dependent on milk for sustenance.
"The children are starving, and here I mean the displaced children because they need milk and there is no water to make formula for them," Abu Salmiya said.
Abu Salmiya reported the death of a kidney patient, with four others on the brink of death due to critical conditions and the absence of dialysis for days. He accused the "Israeli occupation" of besieging the hospital, sabotaging sections, and roaming within its premises.
The hospital is facing a severe shortage of essential supplies, the director added.
Abu Salmiya passionately called for urgent global intervention to avert the impending tragedy, emphasizing that every passing minute and hour results in more deaths.
United Nations demands access
The United Nations' human rights chief has called on Israel to give his team access to Al-Shifa hospital in Gaza City, after Israel's military released video of what it called a Hamas "operational tunnel shaft" in the complex's grounds, a claim immediately rejected by the militant group and Al-Shifa medical administrators as "ridiculous."
Volker Türk, the UN High Commissioner for Human Rights, called on Israel to grant his team access to Gaza to investigate competing claims about Al-Shifa Hospital.
"We need to look into this by having access. We cannot rely on one or the other party when it comes to this," Volker Türk, the UN High Commissioner for Human Rights, told CNN's Becky Anderson when asked about allegations by the Israeli military that Hamas was hiding weapons at the hospital.
He said the situation needs an "independent international investigation, because we have different narratives."
"You cannot use civilian, especially hospitals, for any military purposes. But you also cannot attack a hospital in the absence of clear evidence," Türk added.
The sprawling medical facility of Al-Shifa, which sits in the western part of Gaza City, was built in 1946 when Gaza was still under British rule. It has long been seen as the backbone of medical services across the besieged Gaza Strip, and has been hit in previous Hamas-Israel conflicts.
This is a developing story and will be updated.
CNN's Eyad Kourdi, Kareem Khadder, Nadeen Ebrahim, Jessie Yeung, Christian Edwards, Andrew Carey and David Shortell contributed reporting.