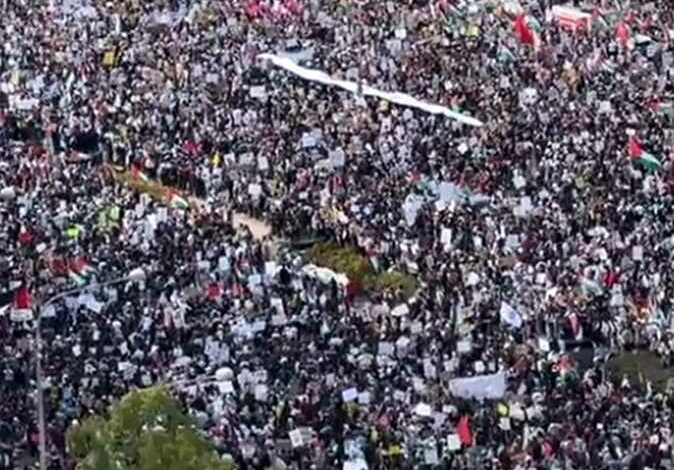 Up to 300 organizations in the US have called for a massive march from all states to support Palestine and demand an end to Israel's assault against the besieged Gaza Strip, which has caused the death of thousands of civilians – including women and children – over the course of an entire month.
Large crowds of protesters took part in demonstrations in the US capital, Washington, on Saturday, demanding that the Israeli aggression be stopped as soon as possible.
Now: Pro-Palestinian rally in Washington, D.C. pic.twitter.com/QiIgtV4yqq

— Benjamin Alvarez (@BenjAlvarez1) November 4, 2023
The march that gathered in front of the White House in Washington, DC, is the largest since the Israeli military escalation in the Gaza Strip, which led to the death of nearly 10,000 people, most of whom were children and civilians.
European capitals also saw several protests at the same time on Saturday, demanding all support for Israel be stopped.
This popular international movement to pressure an end to the war in Gaza comes at the same time that US Secretary of State Anthony Blinken toured the Middle East, where Arab foreign ministers in the Jordanian capital, Amman, before meeting officials in Israel.
Israel announced that it suffered unprecedented military losses during its ground war in the Gaza Strip, which led to the initial killing of 30 soldiers and the injury of others.
The Palestinian resistance meanwhile broadcasts daily videos confirming that the Israeli occupation has suffered much greater losses than publicly announced.