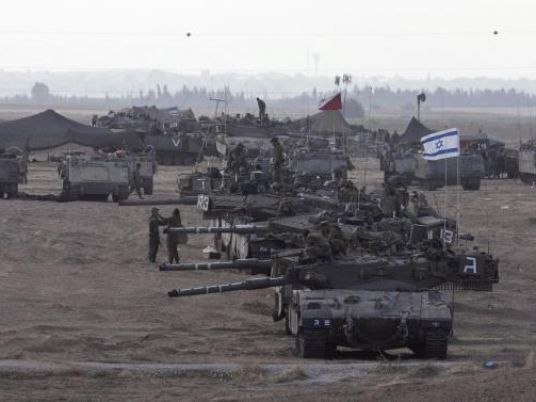 The Al-Qassam Brigades published a video showing it bombing Israeli occupation army vehicles using the Al-Yassin 105-mm anti-tank shells, east of the Zaytoun neighborhood during clashes on Wednesday.
🚨🚨🚨🚨 عاجل | كتائب القسام تنشر مشاهد من تفجير آليات العدو شرق حي الزيتون بقذائف الياسين 105 خلال الاشتباكات اليوم pic.twitter.com/6f9IcwgzrS

— الأحداث العربية (@AlahdathArabian) November 1, 2023
The Israel Defense Forces spokesperson Daniel Hagari on Friday said that the number of its forces killed in the war on Gaza since October 7 has risen to 338 soldiers, including soldiers and officers.
The Israeli army announced the killing of 24 soldiers since the start of the ground operation in Gaza, according to Al-Qahera News Channel.
And the army also revealed the killing of four officers since the start of the ground operation during the battles taking place in the northern Gaza Strip.
The Gaza Strip has been subjected to Israeli land, sea and air bombardment since Hamas and other Palestinian factions launched operation "Al-Aqsa Flood" on October 7.
The "Al-Aqsa Flood" was met with the Israeli "Iron Swords" operation, as the Israeli army launched raids on Gaza Strip, which is inhabited by more than two million Palestinians who suffer from deteriorating living conditions, as a result of an ongoing Israeli siege since 2006.