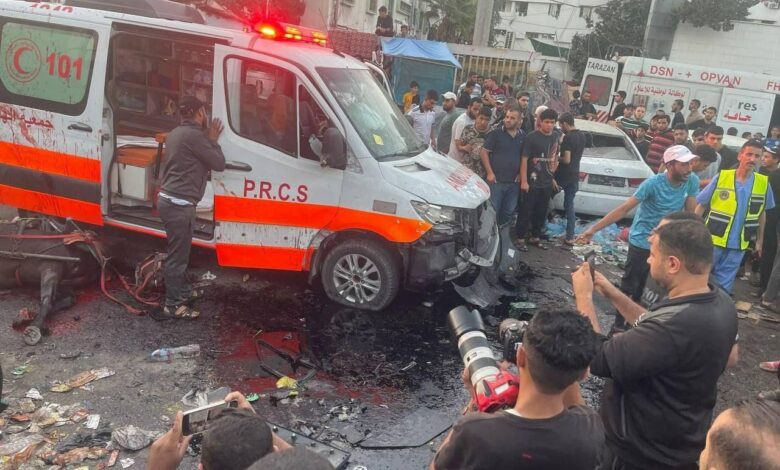 A statement issued by the UN on Saturday announced that
UN Secretary-General Antonio Guterres
was 'horrified' by the Israeli bombing of an ambulance convoy in Gaza, according to the American news network CNN.
"I am horrified by the reported attack in Gaza on a convoy of ambulances outside Shifa Hospital," the statement reads.
Guterres added, "The pictures of bodies dumped in the street outside the hospital are horrific."
The UN secretary general implored Hamas to liberate Israeli prisoners without conditions, and called for a ceasefire in the Gaza Strip.
Guterres continued: "Now, for nearly a month, civilians in Gaza, including children and women, have been subjected to siege, deprived of aid, killed and their homes bombed… This must stop," and he also described the humanitarian situation in the Gaza Strip as "horrific."
"We do not receive enough food, water, and medicine to meet people's needs, and the fuel needed to operate hospitals and water stations is running out," he warned.
Ambulance bombed
CNN reported that Israel claimed responsibility for the attack that occurred outside the Al-Shifa Hospital, saying that it targeted an ambulance used by Hamas – having claimed last week that the facility was the site of a major command and control center for Hamas.
Palestine rejected the Israeli military's claims, with the director-general of the Gaza Ministry of Health Medhat Abbas telling CNN last week that Gaza's hospitals: "Are used to treat patients only and are not used to hide anyone."
The Palestinian News Agency reported that occupation warplanes bombed the main entrance to the Al-Shifa Medical Complex and an ambulance that was present at the place, resulting in various deaths and injuries including from patients, their families, ambulance crews, and even displaced people who took refuge in the hospital and its courtyards after their homes were bombed.
The Palestinian Ministry of Health announced that the toll of dead and wounded Palestinians only continues to rise due to continuing aggression on the Gaza Strip and the West Bank, with more than nine thousand dead and over 25,000 injured.