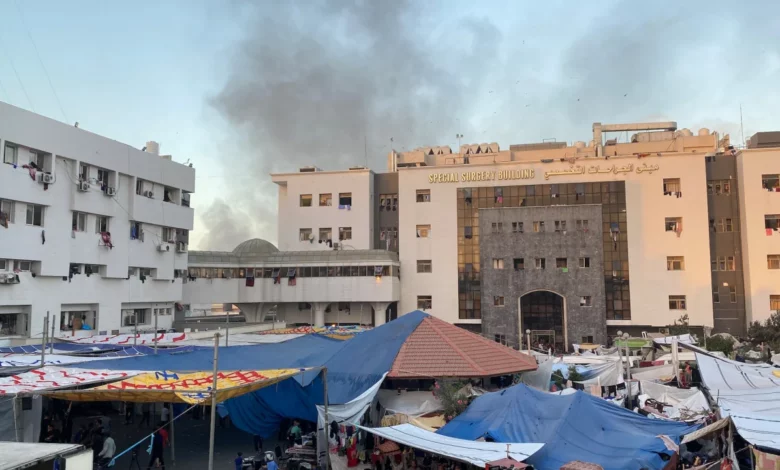 The United Nations' human rights chief has called on Israel to give his team access to Al-Shifa hospital in Gaza City, after Israel's military released video of what it called a Hamas "operational tunnel shaft" in the complex's grounds, a claim immediately rejected by the militant group and medical administrators as "ridiculous."
The video, released on Thursday, shows a hole in the ground and what appears to be a shaft reinforced with concrete with exposed pipes and cabling.
At one point, the video, which has been geolocated by CNN, tilts up to reveal one of the hospital's main buildings about 30 meters away from the hole.
The video does not show the inside of the shaft.
Israel has been under significant international pressure to prove its claims about Hamas's supposed infiltration of the hospital. CNN cannot independently verify the claim by Israel that the image is of a Hamas tunnel.
In a televised briefing later Thursday, IDF spokesman Daniel Hagari said army engineers were still working to expose the tunnel infrastructure.
The UN's High Commissioner for Human Rights Volker Türk called on Israel to grant independent investigators access to Gaza to probe the competing claims.
"This is precisely where you need an independent international investigation, because we have different narratives," said Türk on Thursday. "You cannot use … hospitals, for any military purposes. But you also cannot attack a hospital in the absence of clear evidence."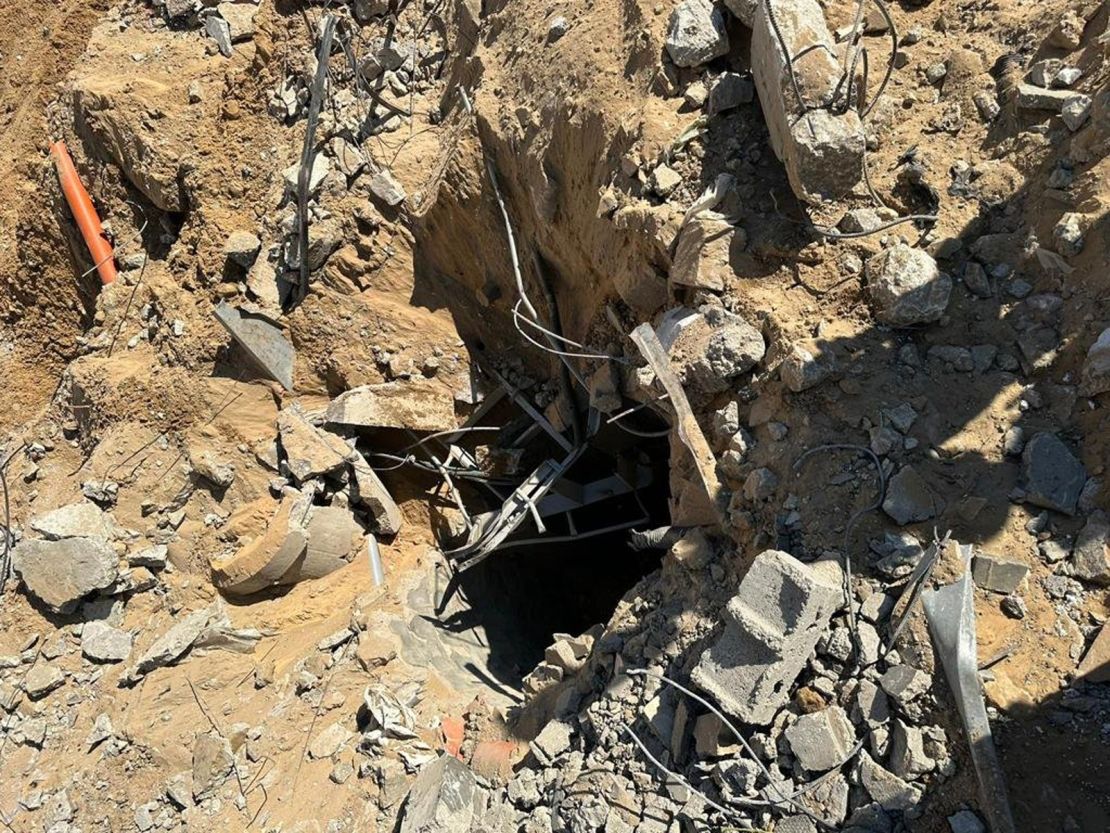 The release of the video came as Israeli troops continued to conduct what an Israel Defense Forces (IDF) spokesman called "very specific, contained operations" both "inside and in the vicinity of the hospital complex."
Israel has been bombarding Gaza, an impoverished and densely packed territory, since the deadly October 7 attack on its territory by Hamas militants.
Israeli airstrikes have killed 11,470 people in Gaza, 4,707 of them children, according to the Palestinian Ministry of Health in Ramallah said Thursday, citing medical sources in the Hamas-controlled enclave.
The actions of both Israel and Hamas since the militant group's massacre of an estimated 1,200 people on October 7 must be investigated, Türk said.
"What Hamas did – the horrific killing of civilians, the fact that they took hostages – are clear violations of the law. The fact that we have seen a collective punishment by Israel of Gaza, by cutting off supplies, of medical necessities, of food, of electricity, of water, is also [a] very serious matter under international humanitarian law," said Türk.
"So, indeed, there are issues that we all have to look into because they are very serious. And they require answers. And they require accountability," he added.
Türk said hospitals had special protection at all time under humanitarian law.
"When it comes to hospitals to medical facilities, to medical personnel, there needs to be special protection for them because, of course, hospitals provide life-saving services. There needs to be effective communication when it comes to evacuations, for example, and there needs to be special provision made for the wounded and the injured to be cared for," said Türk.
Israel and the United States have accused Hamas of operating what they claim is a command center under the hospital in Gaza and Israeli is under pressure to uncover evidence of the sort of multi-layered network of tunnels and chambers that officials have said lies beneath the hospital.
The Hamas-run government media office released a statement calling Israel's claim about the tunnel shaft a "ridiculous scenario." It accused Israel of pushing "false scenarios, fabricated narratives, and distorted information" about the hospital.
"It is a failed attempt to escape future accountability and legal pursuit," the Hamas statement said.
"The Palestinian Ministry of Health has repeatedly requested dozens of times (for) all institutions, organizations, international bodies, and relevant parties to form technical teams to visit and inspect all hospitals, in order to refute the false incitement narrative," it added.
The release of the latest video came as Israel also said that it had found the body of Yehudit Weiss, a 65-year-old grandmother who was kidnapped from a kibbutz near the Gaza Strip during the attack by Hamas militants on October 7.
Friday morning the IDF announced it had recovered the body of a second Israeli hostage, 19-year old Noa Marciano, a corporal in the Israel Defense Forces.
IDF statements said both bodies were found in what were described as "structures" near the Shifa hospital, though it is not known if the bodies were found together, and the precise circumstances surrounding the deaths of both women has not been made clear.
Israeli forces launched a raid on Al-Shifa early Wednesday and soon after released images showing firearms, body armor, and a laptop that it said contained incriminating material recovered from the hospital.
On Thursday, the IDF also claimed to have found a booby-trapped car in the hospital complex containing a large amount of weapons and ammunition.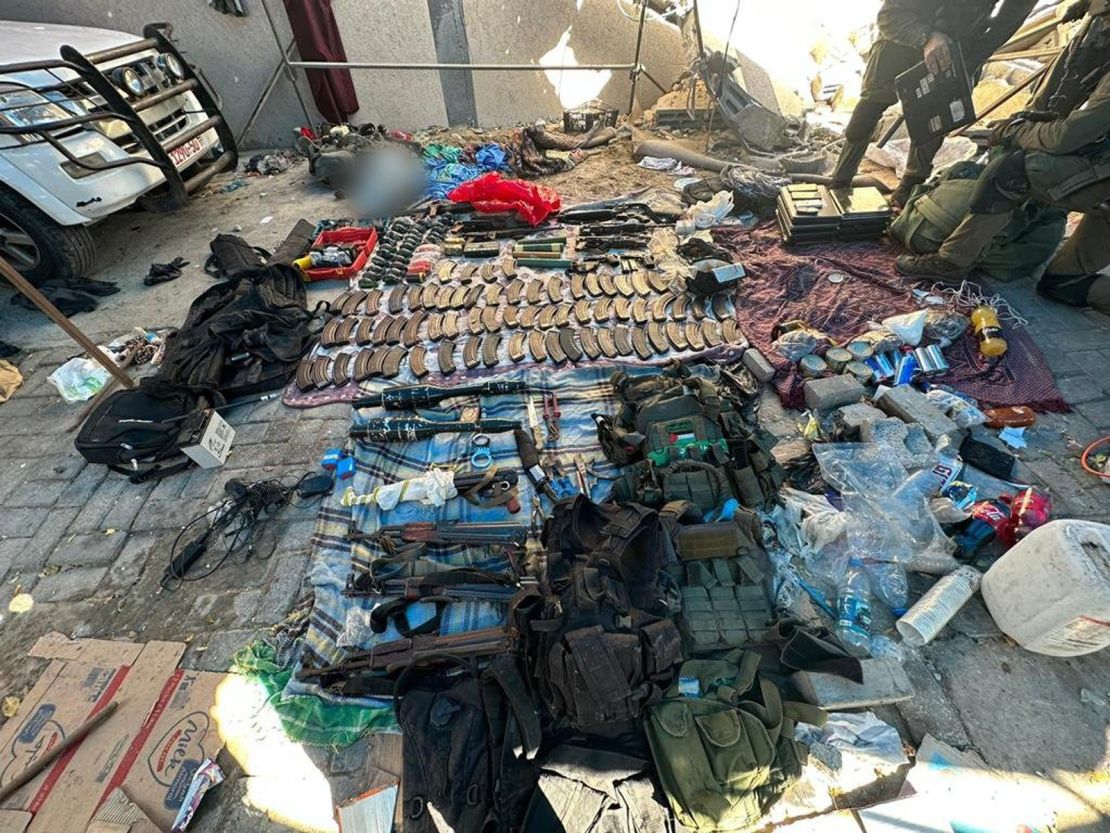 Thousands of medical personnel, patients, and displaced people remained inside Al-Shifa Thursday amid conditions that doctors have called "catastrophic," with food, water, and medical supplies exhausted.
The hospital, the largest in Gaza, has run out of fuel and is no longer considered operational. Earlier this week, doctors and journalists described desperate efforts to keep premature babies alive and limited procedures taking place by candlelight.
Hospital director Mohammad Abu Salmiya told Al Jazeera Thursday that children were starving, and his medical staff had been forced to make "harrowing" decisions such as amputating patients' limbs to prevent the spread of infection from untreated wounds.
Abu Salmiya reported the death of a kidney patient, with four others on the brink of death due to critical conditions and the absence of dialysis for days. He accused Israel of besieging the hospital, sabotaging sections, and spending the last 48 hours freely roaming within its premises.
Al-Rantisi Hospital claims
In another announcement, the IDF's Hagari said Thursday that soldiers had also unearthed a tunnel at the Al-Rantisi children's hospital in northern Gaza.
A CNN team embedded with the IDF on Monday inside that hospital was shown guns and explosives in a basement that Hagari termed an "armory."
CNN was also shown a shaft, about 200 meters away from Al-Rantisi, which Hagari claimed was located next to a Hamas commander's house and a school. The IDF said it was working to determine if there was a connection between that tunnel entrance and the hospital.
But Mohammed Zarqout, a senior health official in the Hamas-run enclave, told CNN that the basement at Al-Rantisi had been used as a shelter for women and children – not to store Hamas weaponry and hold hostages. He also claimed the tunnel was "an electrical wire assembly point."
CNN is unable to verify the claims by the IDF and Zarqout about Al-Rantisi hospital.
On Wednesday, US National Security Council spokesman John Kirby reiterated previous statements from the White House saying the US had intelligence that Hamas was operating in Al-Shifa Hospital.
"I would say we are comfortable with our own intelligence assessment about the degree to which Hamas was and is using al-Shifa hospital as a command and control node and as a storage facility underneath. We're very comfortable with our own intelligence assessment for that," Kirby said.