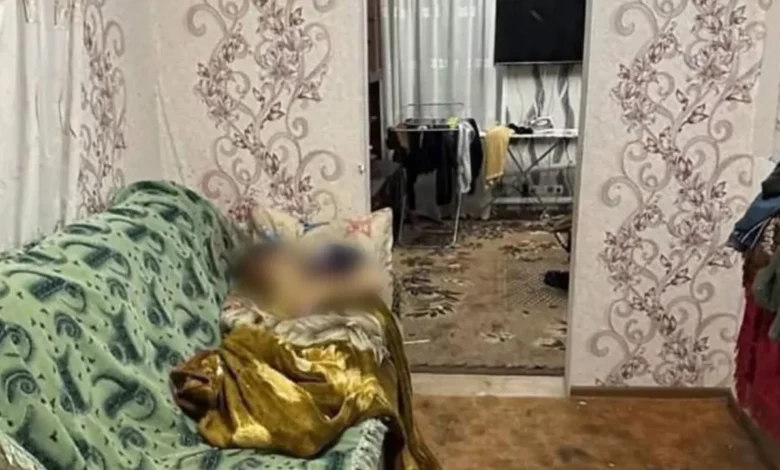 A family of nine, including two young children, were found shot dead in their home in the Russian-occupied eastern Ukrainian town of Volnovakha in a slaying that has sparked outrage in Ukraine and triggered investigations by both nations.
Images from the Ukrainian Donetsk Region Prosecutor's Office showed a horrific murder scene of multiple family members shot while in their beds, still tucked in each others arms, with blood spatters visible on the walls.
Ukraine alleges the family were slain by Russian occupying forces following an argument, while Russian authorities say two Russian soldiers have been arrested over the killings.
Volnovakha has been occupied by Russian forces since March 2022 following Moscow's brutal invasion of its neighbor the month before.
The Ukrainian Donetsk Region Prosecutor's Office said armed men in "military uniform demanded that the family living there vacate the house to accommodate a Russian army unit" earlier this month.
When the owner of the house refused, "the attackers threatened his family members with physical violence and left," the office said Monday, based on preliminary information.
Days later, gunmen returned and "shot all nine members of the family, who were already asleep at that time," the Ukrainian prosecutor's office said.
"A pre-trial investigation was initiated in criminal proceedings over violation of the laws and customs of war," it said.
Russian investigators said two Russian servicemen were detained on Monday in connection with the murder of nine people in Volnovakha.
The suspects identified are "Russian military servicemen from the Far East serving under contract," the Investigative Committee of the Russian Federation for the so-called Donetsk People's Republic said in a statement.
An investigation was launched in connection with the "murder of nine residents of the town of Volnovakha, including two children, whose bodies were found in the premises of a private residential house with gunshot wounds" on October 28, the committee said.
Russian investigators said the initial assessment for "the motive of the crime was a conflict on domestic grounds."
"The suspects were detained and taken to the investigative department, investigative and procedural actions aimed at establishing all the circumstances of the incident, as well as consolidation of the evidence base are being carried out with them," the committee said.
This month, Ukrainian forces have held out against a renewed Russian offensive in eastern Ukraine, as Moscow's forces pummel residential areas. Ukraine has also ordered mandatory evacuations of civilians, particularly children in areas close to front lines in the east and south.