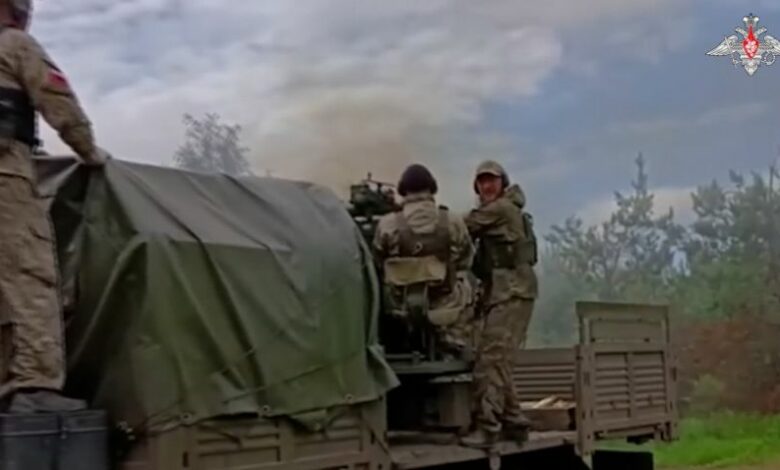 Ukraine is a country in need of a morale boost: In recent weeks, the country's resistance against Russian invasion has receded from the headlines amid Israel's war on Hamas; a much-heralded counteroffensive has yielded only incremental gains; and support in Washington appears to be wavering.
But a bright spot of news appeared this week, when President Volodymyr Zelensky's chief of staff Andriy Yermak said Ukrainian forces had "gained a foothold" on the left bank of the Dnipro River in southern Ukraine, marking a potentially significant advance for Ukraine across a natural defensive barrier for Russian forces.  
Reports first emerged last month that Ukrainian troops had crossed the Dnipro into the Russian-occupied Kherson region, with pro-Kremlin military bloggers saying that Ukrainian forces were establishing positions around the village of Krynky, warning that Ukraine meant to establish a firm bridgehead across the river.
Ukraine had staged cross-river raids before in the region, but on a visit to Washington, Yermak made it public that Ukrainian forces had established a sustained presence on the eastern bank of the Dnipro "against all odds," according to a transcript released Tuesday by the Ukrainian presidential office.
It was welcome news after weeks of pessimistic headlines for Ukraine.
In a recent interview with the Economist, General Valery Zaluzhny acknowledged that Ukrainian forces had failed to achieve a major breakthrough of layered Russian defensive lines. Comparing the current situation to an analysis of battles in World War I, Zaluzhnyi said, "just like then, the level of our technological development today has put both us and our enemies in a stupor."
Ukraine launched a broad counteroffensive along the front lines in the country's east and south earlier this summer, but made only incremental gains and recaptured relatively small settlements.
Ukraine's advances were slowed by minefields and fortifications that had been prepared months in advance by Russia; while Ukraine has successfully struck Russian warships based in the Black Sea and launched headline-grabbing drone strikes deep inside Russian territory – operations that Kyiv generally does comment on – the front lines have remained relatively static.
Dashed expectations around the Ukrainian counteroffensive were a contrast to the dramatic advances in the Kherson region just one year ago, when Russia was forced to withdraw across the Dnipro. The liberation of Kherson was a signal moment for Ukraine, but the city of Kherson and the surrounding region have over the past year come under relentless bombardment by Russian forces across the river.
Over the past year, 409 people have been killed in the region by Russian shelling, including 10 children, according to the Kherson regional military administration. On Thursday, the Ukrainian government said Russian forces had over the past 24 hours fired a total of 531 shells into the region, with 45 aimed at the city of Kherson, in what has become a grim routine for local residents. One person was killed and another was injured by shelling in Kherson city Thursday morning.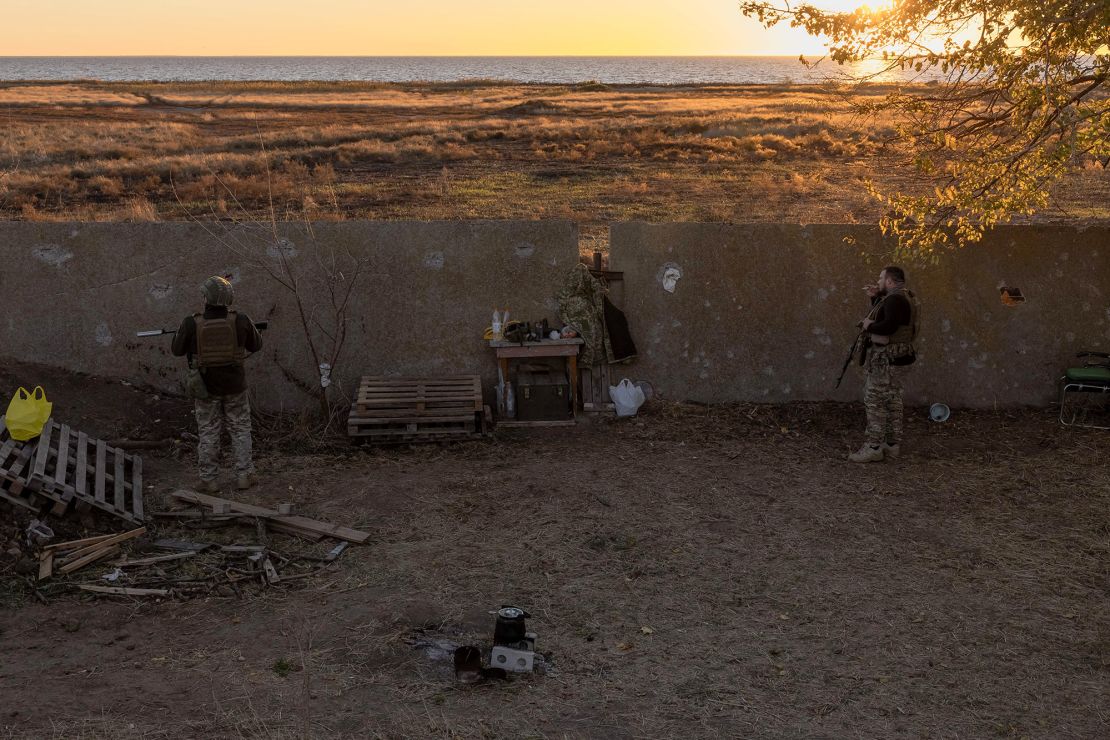 Pushing Russian forces back further in Kherson region would potentially put more civilians out of range of enemy artillery and – theoretically – give Kyiv a launching place to push further south toward occupied Crimea. But the Ukrainian gains on the Dnipro's left bank are tenuous.
A pro-Ukrainian Telegram channel that closely tracks military operations said Thursday that "several small footholds had to be abandoned" on the Dnipro's left bank.
"The situation is absolutely normal," the Telegram channel said, adding that some of the repositioning was meant to draw Russian forces and because some positions were too costly or impractical to hold.
CNN cannot authenticate that claim, but the US-based Institute for the Study of War, which analyzes open-source information from the battlefield, said Ukrainian forces have "continued larger-than-usual operations on the east (left) bank of Kherson Oblast on November 15."
'A fiery hell'
In the first official Russian acknowledgement of the Ukrainian advance, Vladimir Saldo, the Russia-installed governor of the occupied portions of Kherson region, said Wednesday there was "justified concern about the presence of Ukrainian armed forces in the village of Krynky on the left bank of the Dnipro River," but added that additional Russian forces were being deployed to counter Ukrainian forces.
"The enemy is blocked in Krynky, a fiery hell is arranged for them – bombs, rockets, ammunition of heavy flamethrower systems, artillery shells, drones are firing at them," he said.
But pro-Kremlin military bloggers also said Wednesday that the fight was not progressing easily for Russia.
"Russian forces are trying to eliminate the main AFU [Armed Forces of Ukraine] bridgehead in Krynky with the support of all possible means of long-range defeat," said one blogger. "At the moment, without success."
CNN cannot independently verify those Russian claims about the situation on the left bank, and Ukrainian officials have disclosed scant details of the ongoing operation. But the foothold across the Dnipro comes at a time when Ukraine needs to show its Western backers that it is capable of sustaining momentum on the battlefield.
Those efforts got a boost on the diplomatic front Thursday with a visit to Kyiv by new UK Foreign Secretary David Cameron, the former prime minister making his first official trip abroad since his shock appointment.
"Thank you for coming," Zelensky said in remarks to Cameron Thursday that alluded to the multiple geopolitical crises commanding the attention of policymakers in Western capitals. "It's very important. Now you know the world is not focused on the situation on our battlefield and on Ukraine and dividing focuses really doesn't help."
The United Kingdom has been one of Ukraine's most stalwart backers, and former UK Prime Minister Boris Johnson's surprise visit to Kyiv in April of last year is still remembered in Ukraine as an important show of solidarity following Russia's full-scale invasion.
"I had some disagreements with my friend Boris Johnson, but we've known each other for 40 years, and his support for you is the finest thing that he and his government did," Cameron said.
But the Ukrainian government is mindful of the fact that it is in a race against Russia to keep its troops supplied, particularly when it comes to replenishing stocks of artillery ammunition for what remains a brutal slogging match on the front lines with Russia – particularly in the eastern Donbas region, where Russia has been throwing troops at a Ukrainian-held salient around the shattered city of Avdiivka.
Ukraine's Foreign Minister Dmytro Kuleba said Monday Ukraine urgently needed the European Union to ramp up its ability to supply ammunition for the Ukrainian military. Germany's defense minister acknowledged this week the EU will not meet a target of supplying Ukraine with 1 million rounds of artillery ammunition.
"We need more and we need it faster," Kuleba said. "We will push the EU, because Ukrainian infantrymen need ammunition."
Whether Ukraine's Western allies can step up supplies rapidly enough, however, is an open question. Winter is approaching, and Ukraine remains locked in a costly war of attrition with Russia.