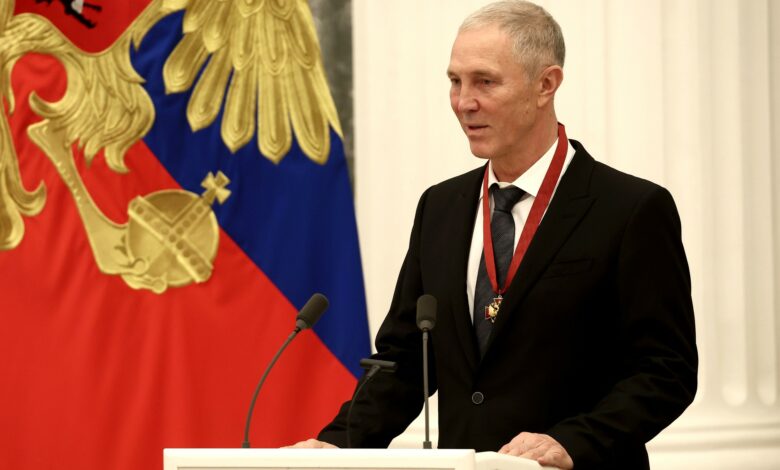 A top Russian military blogger has railed against the Russian Ministry of Defense's explanation of how dozens of soldiers were targeted in eastern Ukraine, calling the official story "not convincing" and "a blatant attempt to smear blame."
Semyon Pegov, who blogs under the alias WarGonzo and was personally awarded the Order of Courage by Russian President Vladimir Putin at the Kremlin on December 20, said that the death toll in Makiivka was likely far greater than the 89 now officially acknowledged by Russia.
"The lists of the missing are, unfortunately, noticeably larger," he said.
The Russian Ministry of Defense on Tuesday appeared to blame the soldiers themselves for a Ukrainian strike on Russian-occupied Makiivka.
It said the "main cause" of the incident was the widespread use of cell phones by Russian soldiers "contrary to the ban," which allowed Ukraine to "track and determine the coordinates of the soldiers' locations."
On Wednesday Pegov said that, while the use of mobile phones near the front lines was "obviously" not a good thing, "the story with 'mobiles' is not too convincing."
"This is not a personal opinion, it is objective," he said.
He called the explanation "a blatant attempt to smear blame," and said that it would "probably be better" for officials to remain silent until the end of an investigation.
He questioned how the Ministry of Defense could be "so sure" that the location of soldiers lodging in a school building could not have been determined using drone surveillance, or a local informant.
"Coordinates of objects are being leaked, and important people's movements are regularly 'tipped off' to the SBU," the Security Service of Ukraine, he said.
"The network works, it does not sleep," said Pegov.
"Neither do Ukrainian drones in the skies above Donetsk and Makiivka, which can provide not just information about the accumulation of subscribers, but also confirm it visually."
He also argued that Ukraine's military would not use American-made HIMARS missiles unless it were certain of its target.
"This is an expensive high-precision weapon. Before striking with HIMARS, the enemy obviously verifies the information," he said. Ukraine does not fire "just for luck."
Pegov once again questioned the official Russian death toll, which on Tuesday evening was increased from 63 to 89, already making it one of the most devastating single attacks against Russia in the war.
"Unfortunately their number will still be growing," he said. "The figures are most likely for those who were able to be identified immediately."
"I cannot reveal my sources, but I think they are reliable," added Pegov. "We double-checked them several times with the guys."