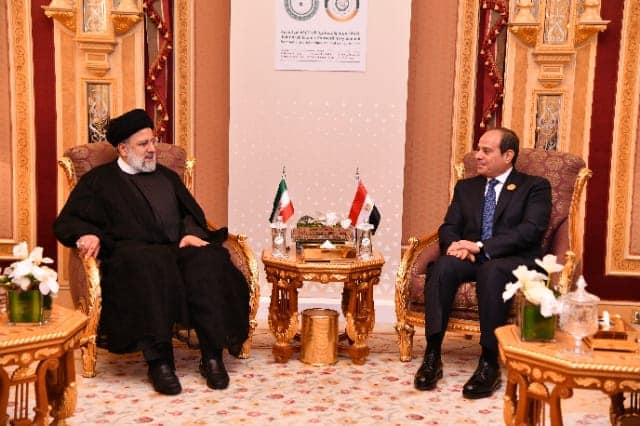 Egypt's presidential spokesperson Ahmed Fahmy announced that President Abdel Fattah al-Sisi met with his Iranian counterpart, Ibrahim Raisi, on Saturday, during the sidelines of the Arab-Islamic summit in Riyadh.
Fahmy added that the main topic of discussion during the summit revolved around the situation in the Gaza Strip, how to alleviate the suffering of the Palestinians, and the push for a ceasefire.
Fahmy's remarks came during a phone interview with TV host Amr Adib on the "al-Hekaya" (The Story) show on MBC Masr.
During his meeting with Iran's president at the Arab-Islamic Summit, Sisi discussed the regional situation, the importance of avoiding the expansion of conflict in the region, and maintaining regional security and stability.
Fahmy said that the Egyptian state adopts its firm position towards the Palestinian issue based on a long history of responsible international diplomacy, characterized by prudence and wisdom.
Egypt opened the door to peace in the region long ago and has maintained it even in the face of constant challenges, he added.
The spokesperson noted that Egypt and the Arab countries have made strong initiatives for peace, and now the international community must move effectively to stop the current escalation.
Fahmy said that there are some similarities between Egypt and Saudi's position on the crisis, including forced displacement.