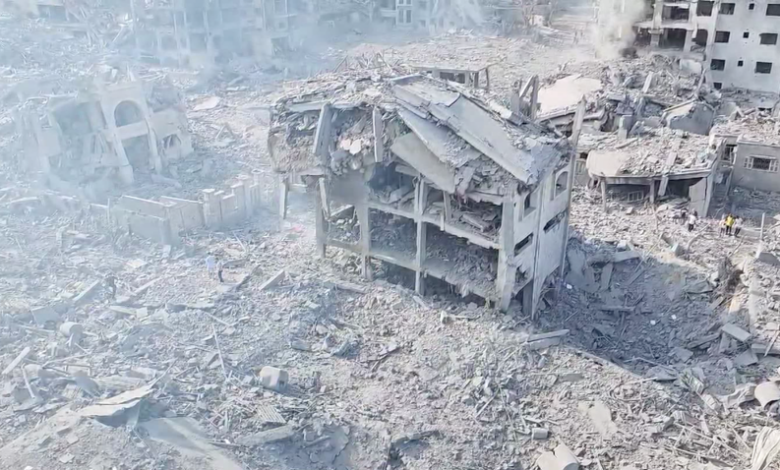 The Al-Qassam Brigades, the military wing of Hamas movement, announced on Saturday that 60 Israeli hostages have been killed due to the Israeli occupation army's bombing of Gaza since October 7.
A statement by the Al-Qassam Brigades added: "Twenty-three of the bodies of the prisoners are missing under the rubble, and we will not be able to reach them due to the aggression."
The al-Quds Brigades also announced the bombing of "Ashkelon, Sderot, Niram, Mfilasim, Kfar Azza and Kfar Saad with intense missile barrages."
The Al-Qassam Brigades on Saturday announced an attack it launched on Israeli forces inside a building in the Gaza Strip.
It indicated in a brief statement that the attack was made on a force holed up in a building northwest of Gaza City, where a clash occurred with it, leaving five Israeli soldiers dead and others injured.
The Qassam Brigades also announced the bombing of Kibbutz Nirim with a missile barrage, in response to the Israeli massacres against the Palestinian people in Gaza.
The Gaza Strip has been subjected to Israeli land, sea and air bombardment since Hamas and other Palestinian factions launched operation "Al-Aqsa Flood" on October 7.
The "Al-Aqsa Flood" was met with the Israeli "Iron Swords" operation, as the Israeli army launched raids on Gaza Strip, which is inhabited by more than two million Palestinians who suffer from deteriorating living conditions, as a result of an ongoing Israeli siege since 2006.