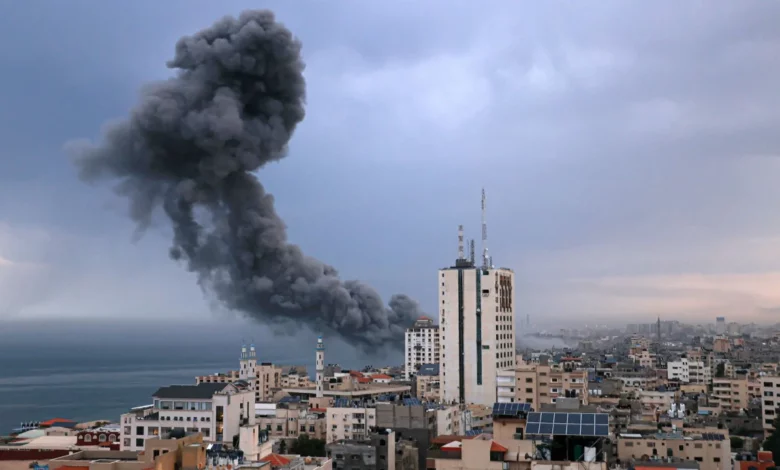 Omani Foreign Minister Sayyid Badr al-busaidi expressed his "deep anger" on Tuesday over the Israeli occupation forces' "unlawful war crimes" against civilians in Gaza.
"We call for the prosecution of Israel for targeting civilians in Gaza," al-Busaidi said in a statement.
Meanwhile, Israeli airstrikes on the Gaza Strip continue unabated.
Palestinian Ambassador to the UN Riyad Mansour said that "there are 2,000 Palestinians trapped under the rubble" in the ongoing war between Israel and Palestinian factions.
"Let us extract them and bury our dead," Mansour pleaded.
He added that up to "2.3 million Palestinians in the Gaza Strip are being killed daily, and the UN resolution on a humanitarian truce in the Gaza Strip must be implemented. This is a war against our children, and every five minutes a Palestinian child is killed in the Gaza Strip."
"Israel has killed 3,500 Palestinian children in three weeks, and all the residents of Gaza have become displaced and refugees. They are still being killed wherever they go. There is no safe place in the Gaza Strip, and Gaza has become hell on earth."
He concluded by calling for an immediate humanitarian truce.
The Gaza Strip has been subjected to Israeli land, sea and air bombardment since Hamas and other Palestinian factions launched operation "Al-Aqsa Flood" on October 7.
The "Al-Aqsa Flood" was met with the Israeli "Iron Swords" operation, as the Israeli army launched raids on Gaza Strip, which is inhabited by more than two million Palestinians who suffer from deteriorating living conditions, as a result of an ongoing Israeli siege since 2006.