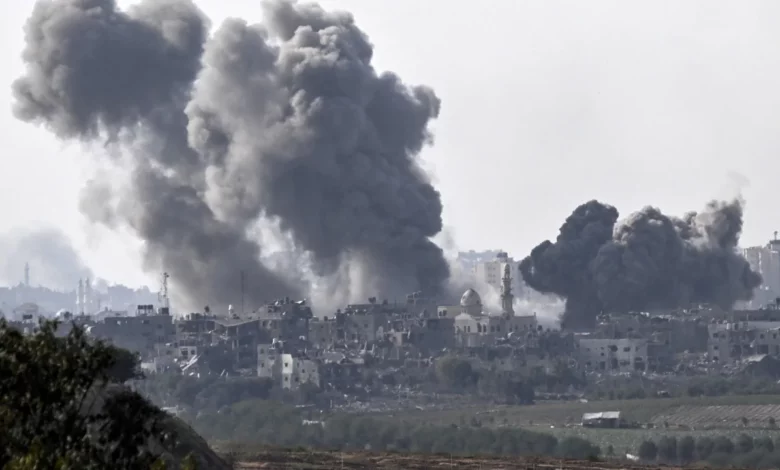 Oil prices fell again Monday as concerns about the health of the global economy outweighed fears that Israel's move on the weekend to expand its military operations in Gaza could lead to a regional conflict.
Brent crude, the global oil benchmark, fell 1.6 percent to $89 a barrel, and West Texas Intermediate (WTI) crude, the US benchmark, dropped 1.9 percent to trade at $84 a barrel by 8.47 a.m. ET. Last week, Brent fell 1.8 percent and WTI 3.6 percent.
Richard Bronze, co-founder and head of geopolitics at consultancy Energy Aspects, told CNN that the biggest reason for the declines was likely to be "market concerns about the health of the global economy and the implications for oil demand."
There are indications that demand for oil is softening globally, and particularly in Europe, he added.
Concerns about global economic growth were underscored Monday when Germany — Europe's biggest economy — reported that its gross domestic product shrank in the third quarter as consumers reined in spending.
Israel's ground offensive in Gaza had been "widely expected," Susannah Streeter, head of money and markets at Hargreaves Lansdown, wrote in a note Monday, but "the risks of regional escalation are still clear and present."
The World Bank said Monday that a ratcheting up in the fighting in Gaza could push global commodity markets, including oil markets, into "uncharted waters," and laid out three scenarios under which oil prices could surge.
"Policymakers will need to be vigilant," Indermit Gill, the lender's chief economist, said in a statement. "If the conflict were to escalate, the global economy would face a dual energy shock for the first time in decades — not just from the war in Ukraine, but also from the Middle East."
The World Bank, in its Commodity Markets Outlook published Monday, said it expected global oil prices to average $90 a barrel in the fourth quarter, before dropping to an average of $81 a barrel over next year as global economic growth slowed.
If, however, the conflict were to escalate and disrupt oil supplies, prices could shoot up by as much as 75 percent to $157 a barrel under the bank's worst-case-scenario. In that instance, the level of disruption would be comparable to that caused by the Arab oil embargo in 1973.
TheWorld Bank said a smaller disruption, equivalent to that resulting from the Libyan civil war in 2011, could send oil prices to $103 a barrel. A medium-level disruption to supplies, equivalent to the fallout of the Iraq war in 2003, could push prices up to $121 a barrel, the lender said.
Prices for Brent have risen 5.7 percent since Hamas attacked Israel on October 7, killing more than 1,400 people, mostly civilians.
Tensions in the region have risen since Saturday after Israeli troops intensified their ground operation in Gaza, following weeks of aerial strikes on the Hamas-controlled territory. Israeli Prime Minister Benjamin Netanyahu said Sunday that the country was prepared for a "long and difficult war."
Israel sent more ground forces into Gaza overnight, Israeli army spokesman Daniel Hagari said Monday, noting: "Our activity there is only set to intensify."
The fears of a broader regional conflict were highlighted Sunday by Jake Sullivan, US national security adviser, who told CBS there was an "elevated risk" of the conflict "spreading to other parts of the region."
Iranian President Ebrahim Raisi also said Sunday that Israel's offensive had "crossed the red lines" and that it "may force everyone to take action." Iran is a key player in the region, and is allied to Hamas as well as Hezbollah, a Lebanese militant group that has been involved in tit-for-tat exchanges of fire with Israel in recent weeks.
Iran has denied any involvement in the October 7 assault by Hamas in Israel. Initial US intelligence suggests that Tehran had been surprised by the attacks.
— Rob North contributed to this article.