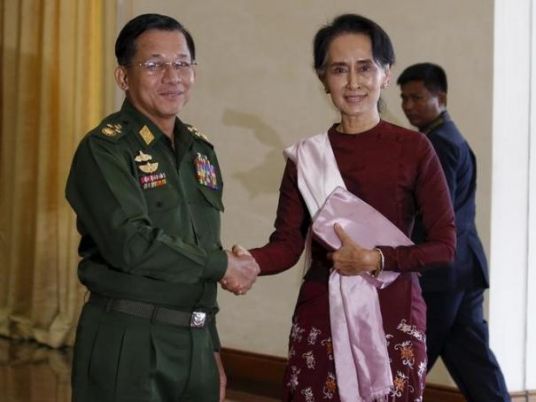 Myanmar's armed forces commander-in-chief stressed on Sunday the need for the military to remain a political force just days before a democratically elected government is set to take power for the first time in 56 years.
Senior General Min Aung Hlaing, making an Armed Forces Day speech from a podium dwarfed by a towering statue of Myanmar's three ancient kings in the capital, Naypyitaw, reasserted the military's belief that it is the country's sole unifying force and protector of the constitution.
Though the military had "cooperated with the government and the people", to hold a historic general election in November, that was won by pro-democracy leader Aung San Suu Kyi, it was not yet time to step away from the political arena, he said.
"The Tatmadaw has to be present as the leading role in national politics with regards to the ways we stand along the history and the critical situations of the country," Min Aung Hlaing said, referring to the armed forces by their Myanmar name.
The military seized power in a 1962 coup and for decades suppressed all opposition. But it stepped back in 2011, paving the way for a semi-civilian government to prepare for November's election. But it retains important powers.
More than 10,000 military personnel marched in a parade marking the day in 1945 when a young nationalist leader, General Aung San, and his followers in a fledgling army turned against Japanese forces occupying their country.
Hundreds of veterans, foreign defense attaches and politicians gathered before dawn on a big parade field to watch the ceremony.
But conspicuously absent was Aung San's daughter, National League for Democracy (NLD) leader Suu Kyi.
She attended the ceremony in 2013 but has not since then.
Also absent was president-elect Htin Kyaw, Suu Kyi's hand-picked leader who will take power on Friday.
Htin Kyaw, a loyal confidant of the hugely popular Suu Kyi, will take the role only because the Noble laureate is barred from holding the position under a military-drafted constitution, which she has openly criticized.
Min Aung Hlaing defended the charter on Sunday, saying it was drafted by "coordinated efforts of intellectuals, experts from various fields and national races representatives and was ratified by a nationwide referendum", and paved the way for the November election.
The 2008 constitution enshrines deep political powers for the military.
A quarter of the parliament seats are reserved for unelected military officers, giving them an effective veto over constitutional changes, and the commander-in-chief remains in control of three key main ministries.