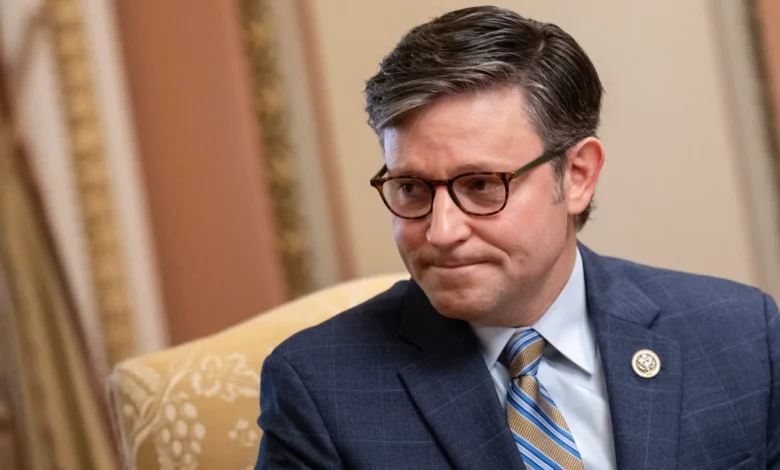 New House Speaker Mike Johnson is already tying Washington in new partisan knots.
The Republican majority's rookie leader is painting deep red conservative lines on the blank page of his career in top-level politics, staking out a risky showdown with Democrats and even Senate Republicans over Israel funding that could either build his power base or fracture his authority from the start.
Johnson's tactics suggest that he is either likely to be as much a hostage to hard-right conservatives as his predecessor Kevin McCarthy was – or that, as one of them himself, he is resolved to use his tenure to stoke fresh chaos and confrontation.
His decision to seek huge cuts to Internal Revenue Service funding to pay for a $14 billion emergency aid package to Israel shows that even an ally fighting an existential war is not immune from the stunt politics of a House GOP that spends more time pleasing conservative media than running the country. The Louisiana Republican is also opening new wounds in the GOP. His refusal to accept President Joe Biden's request to tie together aid to Israel and Ukraine also set up a confrontation with Senate Minority Leader Mitch McConnell, raising the prospect of a new round of Republican-on-Republican tension following three weeks of internal feuding over the speakership. Johnson will meet for the first time Wednesday with the full Senate GOP Conference at its lunch, according to a GOP aide.
Johnson's willingness to stage the first battle of his tenure over the Israel package will also burn precious time just over two weeks ahead of a possible government shut down if new federal funding isn't approved. His muscle flexing may be an attempt to build political capital among hardliners as he positions himself for the far bigger funding fight in which he could face the kind of painful concessions to keep the government open that toppled McCarthy. But if he pushes McConnell and the Democratic-run Senate too far, he could create new animosity that will shape the coming funding showdown.
Johnson's moves are particularly interesting because he was largely unknown outside the House GOP until he emerged as a fallback speaker candidate after three weeks of self-destructive party clashes to replace the ousted McCarthy. Johnson is also new to managing a fractious GOP conference that far more experienced speakers, most recently McCarthy, found impossible to control. An early test will come over how he navigates resolutions condemning the behavior of members of both parties – which some will see as a distraction as the deadline to fund the government nears. His first significant moves in the top job will also be critical to setting expectations for the country's newest high-ranking political leader, who will – if he survives – play a vital role in the run-up to the 2024 election as the GOP seeks to cling to its tiny House majority or even expand it.
But the immediate House showdown over Israel and Ukraine funding also underscores how Washington's partisan angst, deepened by anti-government extremists in the GOP conference, is undermining President Joe Biden's efforts to exert US leadership overseas amid multiple crises. US adversaries like China and Russia are relying on domestic dysfunction in Washington to bolster their challenges to US power and perceptions of the country's capacity to fulfill its global commitments. "US leadership and credibility is at stake here," Beth Sanner, a former deputy director for National Intelligence, said on "CNN News Central" on Tuesday. "The Republicans say Biden isn't showing strength. Well, they are actually making it a lot harder for this president to show strength and US leadership by handling the funding in the way that they are with all this shenanigans," Sanner said.
Johnson surprises by picking Israel funding as his first test of credibility
Johnson's hard ball play on Israel funding came as a surprise given that some of the urgency for ending the speakership impasse last week was to swiftly clear a funding package following the Hamas attacks. Johnson's move to offset the $14.3 billion price tag with cuts to IRS funding included in Biden's Inflation Reduction Act means further certain delay for the bill. It does honor conservatives' demands for steep spending cuts that will also be at the centerpiece of the coming collision over government funding. But it's unclear whether Johnson can deliver given that Democrats control the Senate and the White House. The Biden administration on Tuesday formally threatened to veto the House GOP's standalone Israel aid bill.
The new speaker could have multiple motivations.
The inclusion of the offsets could indicate that Johnson needs to placate his most hardline members even to pass a measure as popular as Israel funding. That would spell early problems for his speakership since it would show that he is just as constrained by the tiny GOP majority – he can afford to lose only four votes and still pass legislation on a party-line vote – as McCarthy was.
Alternatively, Johnson could be aiming to drive a wedge among Democrats at a time when conservatives are focusing on pressure building on the president from his hard left wing, which has criticized Israel's response to the terror attacks and thousands of civilian deaths in Gaza. Forcing some Democrats to vote against funding for Israel could lay the groundwork for future campaign ads ahead of the next election. The National Republican Congressional Committee seemed to confirm this strategy in a post on X on Monday that read: "Extreme House Democrats have a decision to make: IRS audits of middle-class Americans or supporting Israel."
One Jewish Democrat, Rep. Jared Moskowitz of Florida, accused Republicans of politicizing aid for Israelis "in their greatest time of need." He added: "They're setting a political trap. It's completely outrageous. It's not serious policy," he said. "I'm not falling for the trap, because they want us to vote no," he said, vowing to back the Israel aid despite his opposition to trimming IRS funding.
However it plays out, Johnson will likely have to change course when an Israel funding bill returns to the House after action in the Senate, where Democratic leadership opposes the IRS offsets. At that point, however, Republicans may be ready to pocket their political goals after jamming Democrats and placating some of their right-wing members. Still, all this will take time that the House can ill afford with the government due to run out of money after November 17.
The government shutdown clock will also tick down a few more hours on Wednesday as Johnson seeks to deal with a trio of political controversies that reflect the uproar in the narrowly divided House. The chamber is expected to vote on a censure resolution introduced by GOP Rep. Marjorie Taylor Greene of Georgia against Democratic Rep. Rashida Tlaib, a Palestinian American from Michigan who has severely criticized Israel. Then the House is expected to take up a Democrat-filed resolution condemning Greene for having "fanned the flames" of apparent racism, antisemitism and anti-LGBTQ+ rhetoric. The House will also turn to attempts to expel New York Rep. George Santos, who is facing multiple criminal charges including wire fraud and identify theft – to which he has pleaded not guilty. The attempt to oust the freshman Republican is a long shot, largely because his departure would further narrow an already minuscule GOP majority that leaves Johnson with almost no room for maneuver.
Johnson tees up a head-to-head with McConnell
Johnson's decision to use his new power to tee up a challenge with McConnell – who has decades more experience in both the House and the Senate – represents a daring move and shows how the far right-wing of the GOP disdains the political titans of the establishment.
McConnell – a particular target of ex-President Donald Trump, who's the front-runner for the GOP nomination in 2024 – renewed his call on Tuesday for funding for Israel and Ukraine to be tied together. His stance reflects the bipartisan majority in the Senate for a position that Biden says is vital to US credibility abroad. Even before the Israeli-Hamas war erupted, the multi-billion dollar pipeline for arms and ammunition that is helping Ukraine survive its onslaught from Russian President Vladimir Putin was under threat, amid rising Republican opposition – partly fueled by Trump's resistance to backing the Kyiv government. The aid package also contains funding for Taiwan – another key Biden administration foreign policy – and a request for more financing for southern border projects, which is typically a Republican priority.
McConnell on Tuesday delivered a deadpan lesson on the reality of divided government in Washington – one that hard-right House members don't want to hear: "In order to make a law, it has to pass both bodies and be signed by the president."
But Kentucky's other GOP senator, Rand Paul, backed Johnson's position, arguing that it might be essential to his survival in the speakership. "I think the speaker is smart to separate out the Israeli aid. I think he's also frankly smart to do the conservative thing and actually pay for it by taking money from somewhere else in the budget," Paul told CNN's Manu Raju. The senator also accused McConnell of trying to undercut Johnson and of going against the base of the GOP. "I think McConnell's position is very, very unpopular in Kentucky but also very, very unpopular in the United States, and I think ultimately will fail or bring down the speaker, which I don't think is a good idea," Paul said. Some other Senate conservatives are also at odds with their leader, backing the decoupling of Israel and Ukraine aid.
Johnson will meet for the first time Wednesday with the full Senate GOP Conference at its lunch, according to a GOP aide.
But Senate Majority Leader Chuck Schumer warned that Johnson had sacrificed Israel's interests to make a nakedly political point.
"The new speaker knows perfectly well if you want to help Israel, you can't propose legislation that is full of poison pills," the New York Democrat said. "This House GOP proposal is clearly designed to divide Congress on a partisan basis."
The controversy led senior administration officials on Tuesday to forcefully argue that US credibility was at stake around the globe.
Secretary of State Antony Blinken told the Senate Appropriations Committee there were "clear links" between the wars in Israel and Ukraine. He argued that since the US had cut off Russia's military supply lines after the invasion of Ukraine, Moscow has turned to Iran – a key backer of Hamas – for support with military technology. Russia had in turn, Blinken said, supplied advanced military technology to Tehran that threatens Israel's security. "Allowing Russia to prevail with Iran's support will simply embolden both Moscow and Iran," the top US diplomat warned.
At the same hearing, Defense Secretary Lloyd Austin warned that a failure by the US to continue supporting Ukraine would hand victory to Putin and critically endanger the safety of NATO states.
"If Putin is successful, he will not stop at Ukraine. And if you're a Baltic state, you're thinking 'I'm next.' And, you know, there's no question in my mind that sooner or later, he will challenge NATO and we'll find ourselves in a shooting match."