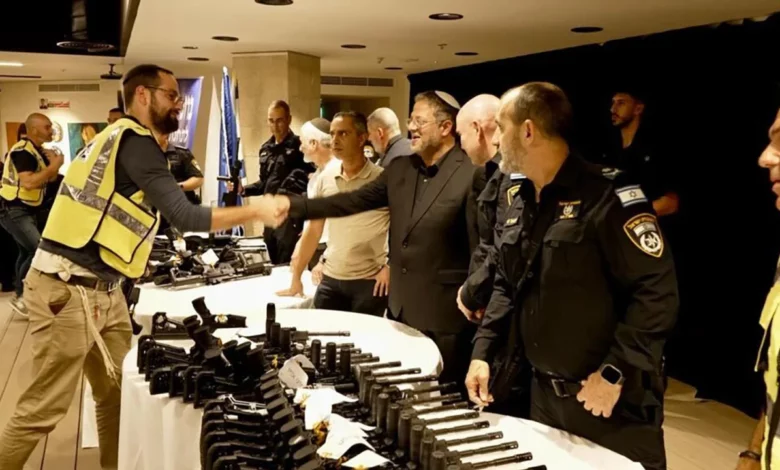 Caesarea and Jerusalem
CNN
 — 
Behind tables laden with more than 50 assault rifles, Israel's far-right national security minister, Itamar Ben Gvir, smiled at a crowd of people who had come to the coastal city of Caesarea for a ceremony to receive the firearms.
The divisive politician has been crisscrossing Israel in the past weeks handing out guns to civilian members of security squads as he expands Israeli citizens' access to guns in the wake of Hamas' attack last month. The aim, according to the Ministry of National Security, is to create teams to respond to future terror incidents.
The successes of some volunteer security units in southern Israel, who were able to push Hamas gunmen back on October 7 in certain locales, have attracted new members to the initiative.
The Israeli government says around 700 volunteer security squads, which will operate under the command of Israeli police, have been established since then, tapping into the wellspring of insecurity in the country following Hamas militants' massacre of an estimated 1,200 people in Israel that day.
"We saw this in the first days of the war, wherever there were weapons, the scale of the disaster was smaller," Ben Gvir said in a press release.
Critics see it as part of a far-right vision to inflame Israeli-Palestinian relations in the country, especially in the Israeli-occupied West Bank. Ben Gvir, who leads the Otzma Yehudit (Jewish Power) party, pledged to give 10,000 guns to towns and cities across Israel, including Israeli settlements in the Palestinian territory, according to the New York Times.
"Weapons will be distributed to squads all around the country, with an emphasize on near- border fence communities in the north and south, mixed cities and settlements in Judea and Samaria," Ben Gvir's office said in a statement shared by the Jewish Power party and seen by CNN which used the biblical names for the West Bank.
Palestinians fear these guns will be used against them. Mariam Barghouti, a Palestinian writer and policy analyst, described Ben Gvir's pledge as "green lighting an intensification of killing Palestinians ­– although that has consistently been the reality in the West Bank," she told CNN.
Violence has spiked in the West Bank since Israel declared war on Hamas last month and at least 176 Palestinians have since been killed by Israeli forces or Jewish settlers, according to the Palestinian Ministry of Health.
The United Nations and many foreign countries consider the West Bank and East Jerusalem as occupied land and therefore view Israeli settlements there as illegal under international law. But Israel says the status of the West Bank is disputed and denies its settlements there are illegal; while it regards all of Jerusalem as sovereign Israeli territory. Some in Prime Minister Benjamin Netanyahu's cabinet, such as Ben Gvir and far-right Finance Minister Bezalel Smotrich, support annexing the West Bank.
Abdelathim Wadi, who lives in Qusra, south of the West Bank city of Nablus, lost his brother and nephew to an attack by armed settlers as they made their way to a funeral for four other Palestinians, he said.
"There's no one to defend us… Our movement is so restricted, we're constantly living in fear that if we leave our house, we'll be shot," he said.
When CNN asked Ben Gvir at the Caesarea event last week whether his actions were inciting violence against Palestinians, CNN was kicked out of the ceremony.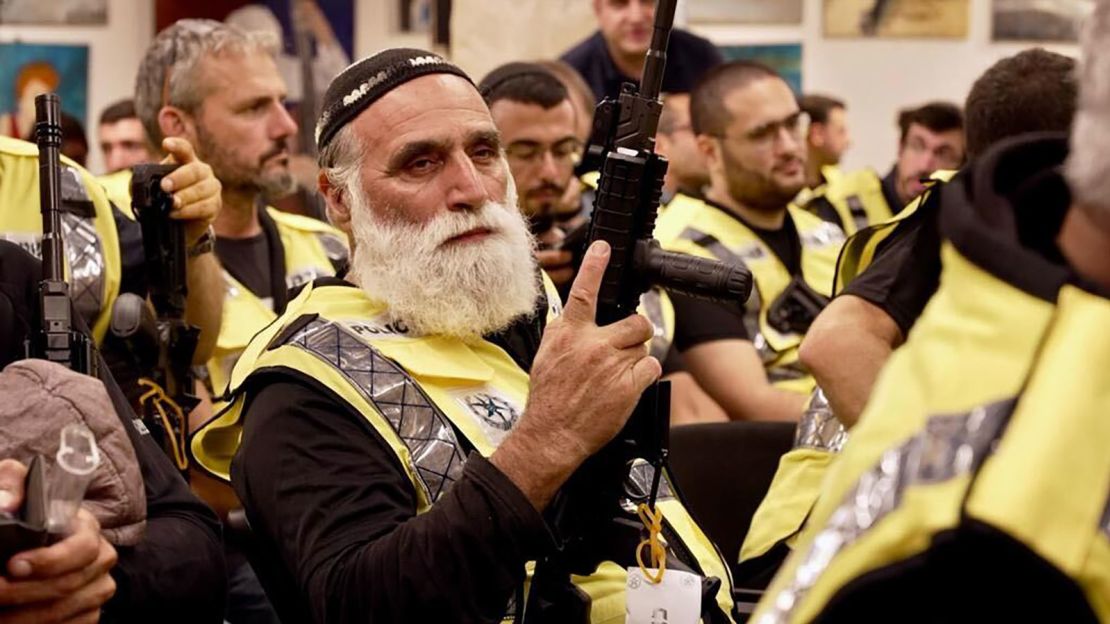 In a later statement to CNN, Ben Gvir said "forming and arming the security squads will increase the probability that many Israeli families" will survive a similar attack to the one on October 7.
It added that the Israel Defense Forces is "the one responsible for arming and forming the squads in Judaea & Samaria," and not the police under Ben Gvir.
"And to be clear, the minister's vision and acts are to provide security to the citizens of Israel, (if) his views were met in the months prior the massacre, the present day could have been different and safer," the statement added.
'Causing chaos'
Ben Gvir, who has previously been convicted for supporting terrorism and inciting anti-Arab racism, loomed on the edges of the Israeli far-right before his party and other extremist figures shored up Netanyahu's ruling coalition – the most right-wing in Israel's history.
Ben Gvir's party draws its core support from Israeli settlers in the West Bank.  Last week, Heritage Minister Amichay Eliyahu, who is in Ben Gvir's party, suggested that dropping a nuclear bomb on Gaza could be "one way" for Israel to deal with Hamas. Eliyahu said later he did not mean his answer to be taken literally.
Outside the sports hall, where the ceremony was taking place in Caesarea, a small group of demonstrators gathered against Ben Gvir's arrival in their neighborhood. Amid chants of "fascist," protester Roy Malkan accused the minister of "provoking the situation in the West Bank," and "hoping for riots from the Israeli Palestinians," Malkan told CNN.
Others against the mass distribution of arms believe the government should be shoring up the police force and the military instead, and not risk weapons falling into the wrong hands.
In a video shared on Ben Gvir's Facebook page, controversial far-right rapper Yoav Eliasi was seen being embraced by the politician after he received a rifle at a Tel Aviv security squad weapons ceremony.
"The rapper for years has incited against Palestinians, against activists, and he also incited against me personally," Ori Givati, a former tank commander for the Israeli military and advocacy director of NGO Breaking the Silence, told CNN. He adds that arming people like that "is only showing what he (Ben Gvir) is trying to cause, which is chaos."
CNN has reached out to Eliasi for comment. He addressed criticism of him in a November 12 post on Instagram, saying: "I am certified and trained by the police."
'Go, arm yourself'
In addition to the hundreds of new volunteer units, Ben Gvir has called on individuals to "go, arm yourself." Shooting ranges and gun stores in Israel have seen an increase in foot traffic as private gun licensing rules were relaxed by Ben Gvir in recent weeks, Reuters reported.
A press release by the Ministry of National Security said that Hebrew-speaking citizens who have military training, no criminal record, and live in an eligible area "can undergo a telephone interview instead of an in-person one, and be issued a firearm license within a week."
A 2017 report from the Small Arms Survey, a Swiss nonprofit tracking global firearms holdings, found civilians owned approximately 557,000 registered and unregistered guns in Israel, or 6.7 guns per 100 people – a tiny fraction of America's 120 guns per 100 people. Israeli officials in October estimated that at least 300,000 Israelis would be eligible for the new licenses.
Guy Ben-Porat, a politics professor at Israel's Ben-Gurion University, told CNN that while he does not want to discount the fear of the wider Israeli population, who "feel that they have been neglected by the military and the government and the instinct is to demand weapons," he believes Ben Gvir has been "exploiting the opportunity to promote what he has wanted for a long time" that is "arming Jewish civilians."
What the country needs is a reduction in arms, he said, pointing to the issue of illegal guns fueling gang-related violence among Arab citizens of Israel. The community – which makes up 20% of the population – has been calling for more measures to help curb criminal violence to deaf years, according to Ben-Porat.
"There's a gun culture because people are insecure, so they buy guns, and every local feud can turn into a gun battle," Ben-Porat, who is also an expert on minority policing, said. "However, the answer is not to give guns to Jewish citizens, but to take the guns away."
Security squad members at the Caesarea event believe the opposite, telling CNN that the process is regulated with a background check and proof of prior military experience. Those with prior police, national or civil service experience, or an exemption, is also accepted, according to a volunteer sign-up sheet. A large proportion of Israelis have undergone mandatory military service: Israel's October call for 300,000 reservists, despite having a population 34 times smaller than the US, is nearly equal to the total size of the US's military reserves.
One of the new recruits, educator Liat Eisner, stressed it was pragmatism that led her to join the volunteer security unit. "We are not fanatics. We're not crazy for guns. We are concerned citizens who are not willing to be butchered again," she said.
Eisner said she's no fan of Israeli politics and previously protested Netanyahu's attempt at judicial reform. But her priorities have changed since the start of Israel's war with Hamas.
"Listen, I'm not going to sit like a duck waiting for someone to slaughter me," she said while filling a rifle magazine with bullets outside the event. "The only thing is us – we have to win (against Hamas). This is survival."
CNN's Nada Bashir and Celine Alkhadi contributed to this report.