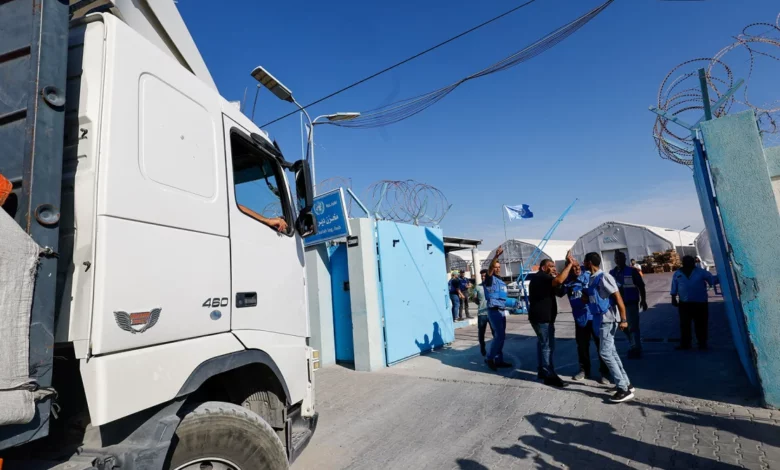 The director of the United Nations Relief and Works Agency for Palestine Refugees in the Gaza Strip (UNRWA), said that occupation forces refuse to allow fuel to reach hospitals, the Pulse Mubasher website reported on Wednesday.
"We obtained about 23,000 liters of fuel from Egypt, but Israel limits its use to transporting aid coming from the Rafah crossing," he added, according to the Cairo News Channel.
A fuel truck entered the Gaza Strip from the Rafah crossing on Wednesday morning for the first time since the start of Israel's attack on the Gaza Strip on October 7.
The Al-Qahira News Channel revealed the entry of the first fuel truck from the Rafah crossing into the Gaza Strip.
The fuel trucks will arrive at the UNRWA, as it is only international organization that can provide assistance and relief to those affected in the Gaza Strip.
Reuters quoted a relief source as saying, "Israel has agreed to bring 24,000 liters of fuel for trucks used in United Nations operations in the Gaza Strip."
The Director of the UNRWA, Thomas White warned on Monday that the humanitarian operation in Gaza would be halted during the next 48 hours, as fuel would not be allowed to enter the Strip.
In a post on the "X" platform (previously known as Twitter), he said that two water distribution contractors contracted with the UNRWA stopped working after they ran out of fuel, depriving up to 200,000 people of drinking water.
The director of Al-Shifa Medical Complex in Gaza revealed that "someone from the Israeli side had offered to provide them with 2,000 liters of fuel, and that they had accepted the offer and requested that the amount of fuel be transferred through the Red Cross."
He added, "After offering 2,000 liters of fuel, the Israeli party backed down from the offer and said that it would provide them with only 300 liters of fuel, which is a very small and insufficient quantity."
"We expressed our readiness to receive at least 6,000 liters of fuel through the Red Cross to save threatened patients," he said, according to international media reports.