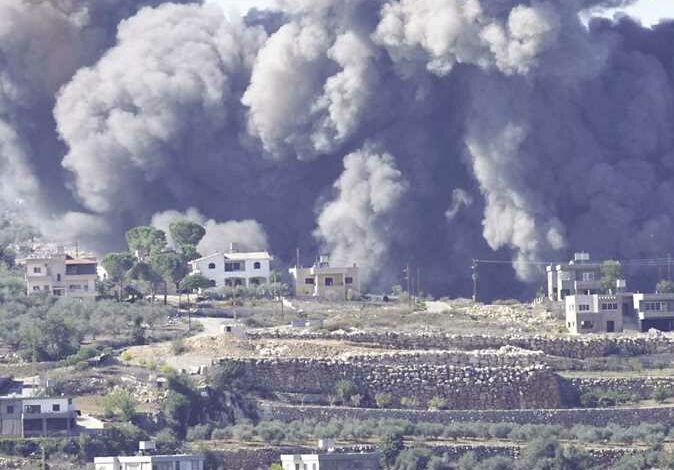 Lebanon announced that Israeli occupation aircraft launched an air strike on Tuesday on Mount Labouneh near the town of Naqoura, coinciding with a reconnaissance flight over the Tyre district and the Sea Coast.
An Israeli drone also launched a raid on the outskirts of the town of Muhaibib in southern Lebanon, according to the National News Agency.
As the military escalation in southern Lebanon continues, Hezbollah announced the bombing and destruction of the technical equipment at al-Raheb site and the targeting of the Malikiyah and Jabal al-Deir sites with missile weapons, causing direct hits.
Hezbollah published a video clip on Monday evening documenting the process of targeting an Israeli logistical mechanism at the al-Bayyad military site.
It said that the resistance has directly hit the logistical mechanism of the Israeli occupation army at the Lebanese border.
Lebanon strikes back
Hezbollah on Tuesday then targeted the Israeli site of Barkat Risha, opposite the towns of Yarin and al-Bustan on the border in southern Lebanon, after the occupation army announced that it had targeted a group that attempted to launch missiles from Lebanese territory towards Israel near the Shtoula area.
Responding to the escalation, the White House said: "The impact of the conflict expanding to Lebanon will be unimaginable devastation, and we do not want that to happen."
The occupation army announced that it had targeted a cell that was trying to launch an anti-tank missile at Shtoula from southern Lebanon, while asking residents of towns on the border with Lebanon to stay at home and near shelters.
Maronite Patriarch Cardinal Mar Bechara Boutros Al-Rai called on officials in his country to work to neutralize Lebanon from the scourge of the devastating war.
He condemned the massacre that targeted innocent children in Ainata, and expressed his confidence in the Lebanese army and the international force to ensure security in the south, the borders and other Lebanese regions for the sake of stability in the country.