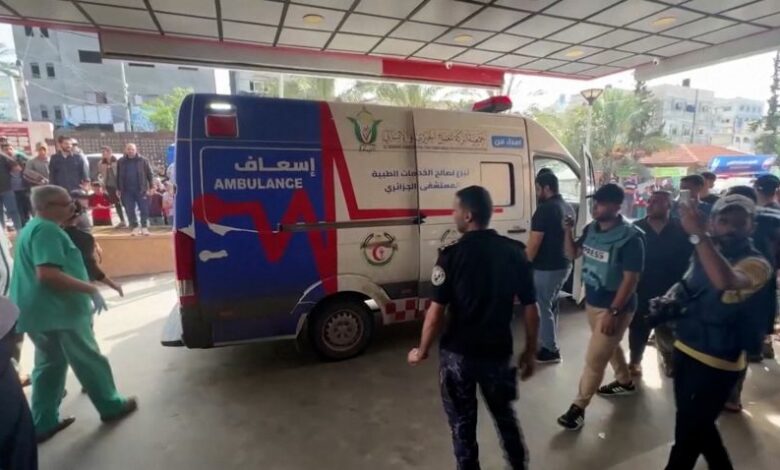 Israel said its military launched a "targeted" operation against Hamas early Wednesday morning inside Gaza's largest hospital, Al-Shifa, where thousands of Palestinians are believed to be sheltering.
Conditions at the hospital, which has run out of fuel and is no longer considered operational, have deteriorated rapidly in recent days amid intense fighting, with doctors warning of a "catastrophic" situation for patients, staff and displaced people still inside.
In a statement posted online, the Israel Defense Forces said it had begun "a precise and targeted operation against Hamas in a specified area in the Shifa Hospital."
IDF spokesperson Peter Lerner told CNN later Wednesday that the operation at Gaza's Al-Shifa hospital was "ongoing." Israeli radio reported that, so far, the army had found no indication of hostages inside the hospital.
Israeli tanks and military vehicles were "inside the courtyard of Al-Shifa Hospital," Khader Al Za'anoun, a reporter for the Palestinian news agency, Wafa, told CNN.
Israeli soldiers, he said, were in the buildings "conducting search and interrogation operations with the young men amidst intense and violent gunfire inside the hospital." He added that the Israeli army "is calling on the young men through megaphones to raise their hands, come out, and surrender themselves."
Earlier, he said gunfire was exchanged across the hospital yard.
In its statement Wednesday, Israel again accused Hamas of continuing to use the large hospital complex for military purposes which, it said, "jeopardizes the hospital's protected status under international law."
Hamas and hospital officials have consistently rejected Israel's claims that Hamas has built a command center under the hospital.
The desperate situation at Al-Shifa hospital has triggered fresh international outcry over Israel's actions in Gaza. International pressure on the Israeli government has also hardened in recent days amid accounts of dire circumstances at Gaza's other fuel-starved hospitals, and severe shortages of food and water.
United Nations Secretary General Antonio Guterres on Tuesday repeated his calls for a ceasefire in Gaza "in the name of humanity."
30-minute warning
A doctor inside Al-Shifa told CNN they were given 30 minutes' warning before the Israeli operation began.
"We were asked to stay clear of the windows and the balconies. We can hear the armored vehicles, they are very close to the entrance of the complex," Dr. Khaled Abu Samra said.
Hundreds of staff and patients are still inside Al Shifa, according to the most recent reports from the hospital, along with several thousand who have sought shelter from Israel's air and ground offensive.
The Israeli statement said, "The IDF is conducting a ground operation in Gaza to defeat Hamas and rescue our hostages. Israel is at war with Hamas, not with the civilians in Gaza."
A statement from Hamas blamed both Israel and the United States for the Israeli army raid on the hospital. By supporting what it called Israel's "false narrative" – that Hamas was using Al-Shifa as a command and control base – it said the US had given Israel, "a green light … to commit more massacres against civilians."
Hours before Israel's raid, the White House and the Pentagon said that Hamas is storing weapons and operating a command center from the hospital.
The Pentagon said the US has newly declassified intelligence that claims to show that Hamas and the Palestinian Islamic Jihad were using hospitals — including Al-Shifa — as a "way to conceal and support their military operations and hold hostages."
Palestinian Health Minister Dr. Mai Al-Kaila said the Israeli army raid represents, "a new crime against humanity, medical staff, and patients" and could have "catastrophic consequences" for patients and medical staff.
Israel declared war on Hamas, the Palestinian militant group that controls Gaza, and launched a "complete siege" of the enclave following Hamas' terror attacks in Israel on October 7. An estimated 1,200 people were killed in Hamas' attacks, and about 240 taken hostage, most of whom remain captive in Gaza.
Since then, the Israeli response has killed at least 11,180 Palestinians – including 4,609 children and 3,100 women – according to the Palestinian Health Ministry in Ramallah, which draws on medical sources in Gaza.
Catastrophic conditions in Al-Shifa
Doctors and journalists have described catastrophic conditions inside Al-Shifa, including desperate efforts to keep premature babies alive and limited procedures taking place by candlelight.
"There is no more water, food, milk for children and babies … the situation in the hospital is catastrophic," hospital director Mohammad Abu Salmiya told CNN on Monday.
Journalist Al Za'anoun said people inside the hospital "are starving, there is no food or drinkable water, we barely get tap water for one hour a day."
He said dozens of corpses are set to be buried in a mass grave in the yard of the hospital complex, as relatives cannot leave to bury their loved ones.
"The scene is horrifying, the smell of the dead people is unbearable, most of the bodies are of women and children," Al Za'anoun told CNN.
Abu Salmiya told Al Jazeera there are plans to bury more than 150 bodies, but he was worried the grave would not be large enough.
In recent days, 15 patients have died at Al-Shifa, among them six newborns, due to power outages and a shortage of medical supplies, according to the Palestinian Ministry of Health in Ramallah, which draws its figures from the Hamas-controlled territory.
Premature babies were taken out of failed incubators and wrapped in foil on Monday in a desperate bid to keep them alive after oxygen supplies ran out. Images showed several newborn babies placed together on a bed.
Egyptian health minister Khaled Abdel Ghaffar said Tuesday they are working to bring 36 newborns from Al-Shifa to Egypt, though such a transfer would be dangerous.
The World Health Organization has recorded at least 137 attacks on health facilities in Gaza, which it said resulted in 521 deaths and 686 injuries.
Other protected sites, like schools, civilian shelters, and United Nations facilities have already been damaged or destroyed in over a month of Israeli airstrikes. On Monday, the United Nations Relief and Works Agency for Palestine Refugee announced that over 100 UN staffers had been killed in Gaza since fighting began – the most in the United Nation's history.
This story is breaking and will be updated.
CNN's Kareem Khadder, Celine Alkhaldi, Eleni Gi