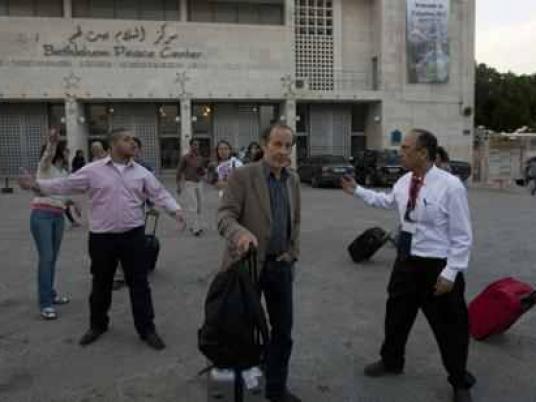 Israel has barred nearly 80 foreigners from flying into the country on grounds they were linked to a pro-Palestinian campaign, police said on Monday, with 60 of them still awaiting deportation.
As of midnight, police at Ben Gurion airport near Tel Aviv had detained 78 people, more than two-thirds of them French nationals, spokesperson Luba Samri said.
Among those detained were 51 French nationals, 11 Britons, six Italians, five Canadians, two Spanish nationals and three others from Switzerland, Portugal and the US.
Officials had already sent 18 people back to their port of origin, while another 60 had refused to leave voluntarily and had been taken to two facilities near Tel Aviv, she said.
Hundreds of Israeli police had been deployed at the airport from Saturday night in a bid to prevent the arrival of a wave of foreigners taking part in the "Welcome to Palestine" fly-in campaign, also known as the "flytilla."
Organizers of the campaign, now in its third year, had been expecting to welcome up to 1,500 people, but Israel vowed to prevent them from entry, warning airlines they would be forced to foot the bill for the activists' immediate return home.
Most of Europe's main airlines quickly fell in line, canceling the tickets of at least 300 Tel Aviv-bound passengers, and sparking angry protests in several European capitals.
Police at the airport also arrested nine Israeli activists who had come to support the visitors.
Last year, around 800 people tried to join the campaign, with many blocked from flying by airlines. Another 120 were denied entry by Israel and deported.