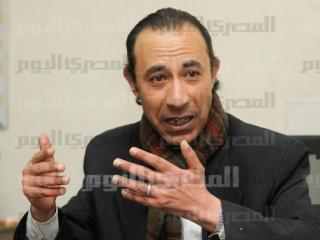 Essam al-Amir, head of the Egyptian Radio and Television Union (ERTU) and the acting information minister, has stressed necessity to preserve Maspero, work on strengthening its shortcomings and resolve its problems.
In an interview on the privately-owned CBC Extra satellite TV channel, Amir said that the actual number of Maspero employees has reached 34,700, who receive salaries worth LE220 million per month.
Around 3,000 workers are on unpaid leave, he said adding that the Maspero building is embedded in the emotions of Egyptians.
He revealed that the revenues of the sports and youth radio station last year was LE3 million, compared to LE300,000 in 2012. He also unveiled his intentions to achieve financial and administrative independence in Maspero.
Amir disclosed a decision to establish Nile Radio company in January and his intentions to take advantage of all capabilities in Maspero.
Egyptian television has held an important role in society, he argued, adding that 25 January revolution was a significant time in its history.
Edited translation from MENA