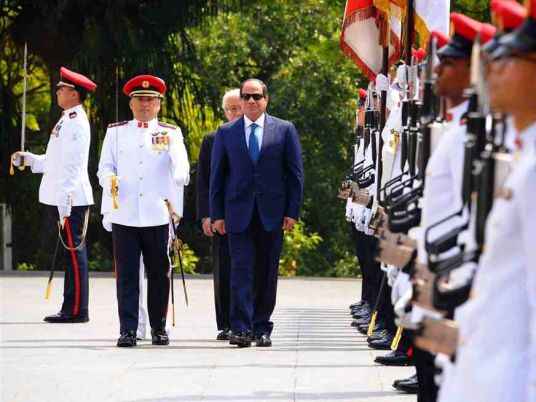 Egyptian President Abdel Fattah El Sisi and his Singaporean counterpart Tony Tan held a tete a tete session of talks at the Istana Palace on Monday.
It was followed by an expanded session of talks grouping the delegations of the two countries to discuss ways of boosting bilateral ties, ways to combat terror and regional and international issues of mutual concern.
Sisi also met Prime Minister Lee Hsien Loong at Istana to discuss boosting cooperation in the fields of energy, water, technical education, investment and seaports.
Sisi, who arrived here on Sunday on a three-day visit, received an official welcome earlier today before the start of his talks at Istana.
The president will leave Singapore for China and Indonesia as part of his Asian tour.
Is it possible that 1.6 billion [Muslims] should want to kill the rest of the world's inhabitants – that is 7 billion—so that they themselves may live? Impossible!" al-Sisi asserted. "I say and repeat again that we are in need of a religious revolution. You, imams, are responsible before Allah. The entire world, I say it again, the entire world is waiting for your next move… because this umma [international Muslim community] is being torn, it is being destroyed, it is being lost – and it is being lost by our own hands."
Islam is not the only religion with a history of killing in their God's name — as Christianity had its Crusades from the 1000s to the 1200s – but extremist Islam has never been completely able to break away from the ancient violent rhetoric of killing those whom they disagree with or those who insult their prophet. Al-Sisi claimed this kind of violence is only "antagonizing the world."