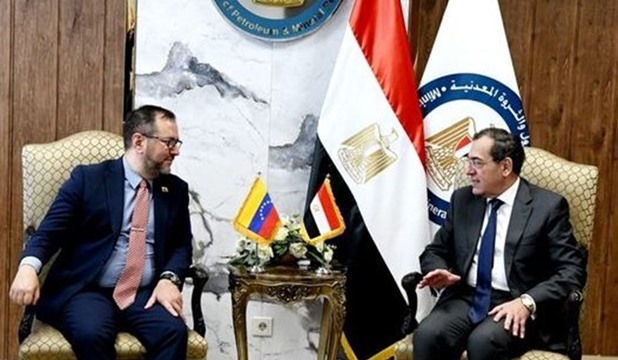 Egyptian Minister of Petroleum and Mineral Resources Tarek al-Molla, on Tuesday 7-11-2023, discussed with Venezuela Foreign Minister Yvan Gil Pinto, and his accompanying delegation, prospective cooperation between the two countries in the domains of oil, gas and petrochemicals.
The Venezuelan top diplomat is currently visiting here to hold talks with officials on a set of shared files, in light of his country's willingness to advance co-operation with Egypt in all spheres.
Minister Molla, in statements, underscored the strength of historical relations between Egypt and Venezuela at both the political and economic levels.
He also asserted the readiness of the petroleum sector to back cooperation with Venezuela and promote it.
Molla pointed out to previous cooperation with the Venezuelan side in carrying out several projects, including providing training for more than 70 Venezuelan engineers at Enppi Academy and Training Center.
The Venezuelan foreign minister, meanwhile, said he had fruitful talks with a set of Egyptian companies that are affiliates of the Petroleum sectors and asserted the significance of activating the role of the Egyptian- Venezuelan Joint Commission.
He added that Venezuela seeks boosting the crude oil output from one million barrels per day to 2 million barrels daily alongside promoting exports, in light of the growing petroleum projects of the South American country, a matter that would require Egyptian technical, engineering and administrative expertise in this vital domain.
Molla and Pinto agreed on forming a team work to outline a road map for cooperation throughout the coming period in various petroleum domain, in order to pave the way for sealing a memorandum of understanding (MoU) in this regard.