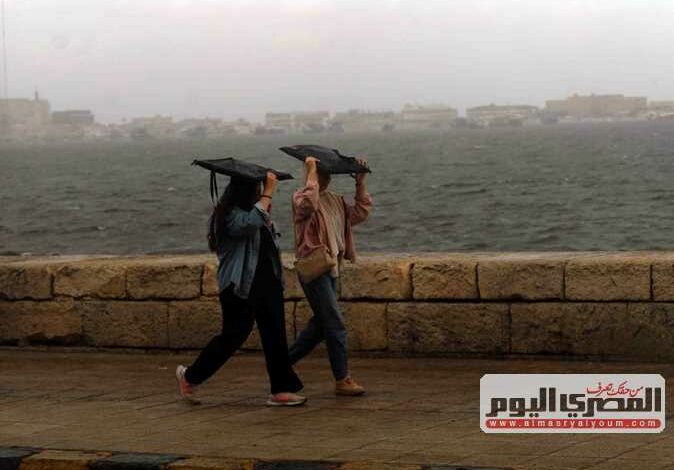 The Egyptian Meteorological Authority warned of weather conditions on Sunday and Monday, as the country will be exposed to thunderstorms and rain across most governorates, amidst a drop in temperatures and wind activity.
In a statement on Friday, the EMA urged the importance of following up on bulletins and updates during the weather situation, alongside taking the necessary preparations to confront changes brought on by the bad weather conditions.
The EMA attributed the change in weather to the concentration of a depression in the eastern Mediterranean impacting the north of the country, making the weather volatile and rainy.
Weather maps displayed wind activity in various areas blowing up sand, and low clouds forming, accompanied by rainfall of varying intensity – heavier north of the country and decreasing in intensity as it moves inland.
Saturday's weather
Moderate weather will prevail over Greater Cairo, Lower Egypt, and the northern coasts on Saturday, tending to be hot in northern Upper Egypt, South Sinai and southern Upper Egypt.
It will become more pleasant at the beginning of the night, growing colder by the end of the evening in the north of the country up to northern Upper Egypt, and pleasant in South Sinai and South Upper Egypt.
Mists are expected to be denser in the morning, occasionally on some agricultural and highway roads leading to and from areas of Greater Cairo, Lower Egypt, the northern coasts, the Suez Canal cities, central Sinai, and northern Upper Egypt.
Moderate rain is predicted in the evening on areas of the northwestern coasts and northern Lower Egypt at intermittent periods, alongside intermittent wind activity in areas of Greater Cairo, Lower Egypt and the northwestern coasts.
Edited translation from Al-Masry Al-Youm