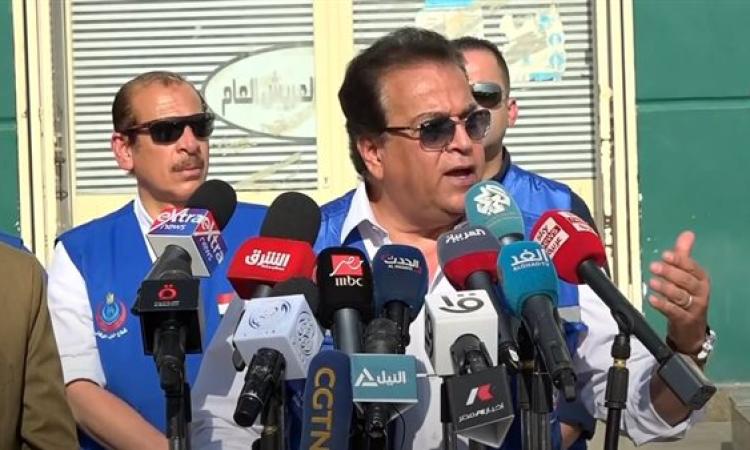 Egypt's Minister of Health and Population Khaled Abdel-Ghaffar announced at the Rafah border on Saturday that the crossing receives between 40 and 50 injured Palestinians from the Gaza Strip daily.
Abdel-Ghaffar added that Egypt has the capabilities to deal with all injured coming from Gaza Strip, stressing that the Egyptian President Abdel Fattah al-Sisi is following up on the details of the cases on a daily basis.
On Wednesday, the Egyptian Ministry of Military Production announced the establishment of a field hospital produced by the "Military Factory 200" at the Rafah crossing, to provide first aid to injured people displaced from Gaza.
The hospital is a mobile medical unit that can be temporarily installed for the purpose of rapid field intervention for the injured.
It is characterized by ease of dismantling, installation, and transportation from one place to another.
The Ministry of Health in Gaza announced earlier on Saturday that the number of victims of the Israeli aggression on the Strip had risen to 9,488 – 70 percent of whom were children.
The Palestinian Ministry of Health indicated that the Israeli occupation committed 10 major massacres recently, claiming the lives of 231 people.
Additionally, the Health Ministry reported that it had received 2,200 reports of missing persons, including 1,250 children still under the rubble.