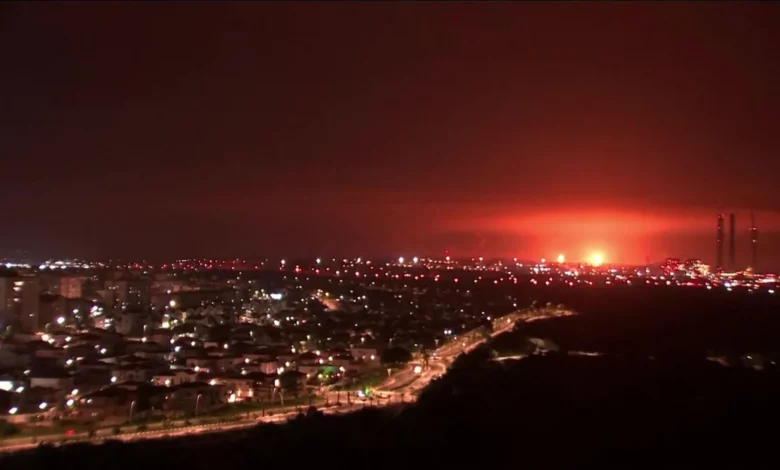 The Egyptian Foreign Ministry said on Sunday that "An Israeli minister demanding to drop a nuclear bomb on the Gaza Strip is evidence of the extent of the deviation and extremism that has befallen a number of decision-makers in the Israeli government."
The Foreign Ministry's spokesperson Ahmed Abu-Zeid stressed, on his account on "X" platform on Sunday, that "The international community must decisively confront the rhetoric of violence, hatred, and racism," adding that "The world is talking about nuclear disarmament and its dangers, yet some are thirsty for more destruction and killing."
The Minister of Heritage in the Israeli occupation, Amichai Eliyahu, said that dropping a nuclear bomb on the Gaza Strip is "an option."
The Israeli minister, affiliated with the far-right Otzma Yehudit party, confirmed his objection to allowing any humanitarian aid to enter Gaza, saying: "We will not deliver humanitarian aid to the Nazis. There is no such thing as uninvolved civilians in Gaza."
The Minister of Heritage in the Israeli occupation is not currently a member of the security mini-ministerial cabinet, and therefore does not have any influence on the emergency government that is managing the war against Hamas and the Gaza Strip.
Eliyahu has previously called for the occupation of the entire Palestinian strip.
When asked about the fate of the Palestinian population in Gaza, he said: "They can go to Ireland or the deserts. The monsters in Gaza must find the solution themselves."
He has repeatedly said that the northern Gaza Strip has "no right to exist at all", and even believes that anyone waving the flag of Palestine or Hamas "should not continue to live on earth."
Israel's nuclear capabilities
The Israeli minister's statements have raised questions about Israel's nuclear capabilities and the size of its arsenal.
Recent estimates announced by the Federation of American Scientists (FAS) this year indicate that Israel possesses 90 nuclear bombs in its nuclear arsenal – making it one of the most dangerous nuclear weapons arsenals in the world.
Although Israel has not signed the Nuclear Non-Proliferation Treaty, other reports indicate that the size of its nuclear arsenal is likely larger than announced.
According to FAS estimates, Israel ranks eighth globally in terms of possessing nuclear power after Russia, the US, China, France, the UK, Pakistan, and India.
Among these countries, Russia, the US, Britain, France, and China openly declare that they possess nuclear weapons.
On the other hand, Israel, Pakistan, India, and North Korea are reported to deliberately hide the matter intentionally and do not acknowledge it officially.