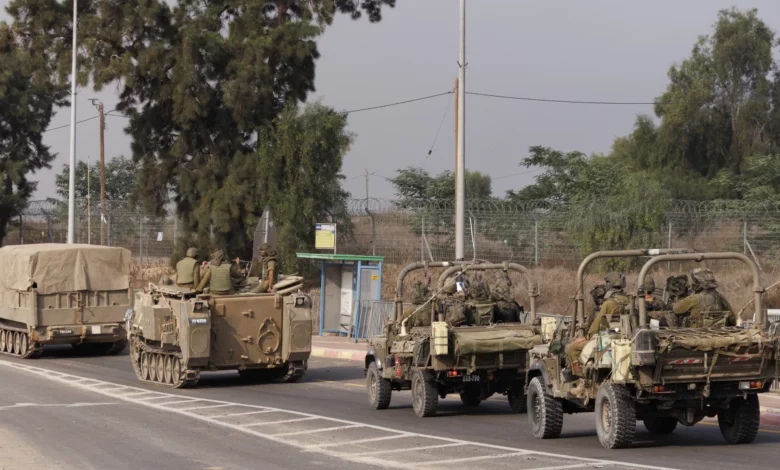 The main United Nations agency in Gaza warned Sunday there are signs "civil order is starting to break down" after "thousands" of people broke into its warehouses and distribution centers in central and southern parts of the enclave, "taking wheat, flour and other basic survival items."
One of the warehouses in the city of Deir al Balah, in central Gaza, stores supplies from humanitarian convoys coming from Egypt, the UN Relief and Works Agency for Palestine Refugees in the Near East (UNRWA) said in a statement.
"This is a worrying sign that civil order is starting to break down after three weeks of war and a tight siege on Gaza. People are scared, frustrated and desperate," said Thomas White, director of UNRWA affairs in the Gaza Strip.
White said mass displacement of people from northern Gaza to the south was putting huge pressure on communities and already crumbling public services. "The needs of the communities are immense, if only for basic survival, while the aid we receive is meager and inconsistent," he said.
This pressure may ramp up as the Israeli military said Sunday it was "increasing the urgency" of its calls for people in northern Gaza to flee south, a day after Prime Minister Benjamin Netanyahu said Israel had launched the "second stage" of its war against Hamas.
Israel Defense Forces (IDF) spokesperson Rear Adm. Daniel Hagari gave the warning in a video posted Sunday morning. The United Nations (UN) and humanitarian groups have criticized calls to move southwards, pointing to the challenges of moving within Gaza while it is under attack.
It's also unclear how widely Gazans received the call as communications severed across much of the territory since Friday night were only partially restored as of Sunday morning.
"The war inside the Gaza Strip will be long and difficult — and we are ready for it," Netanyahu declared Saturday, after expanding ground operations inside Gaza where residents are scrambling to survive amid intensifying bombardments.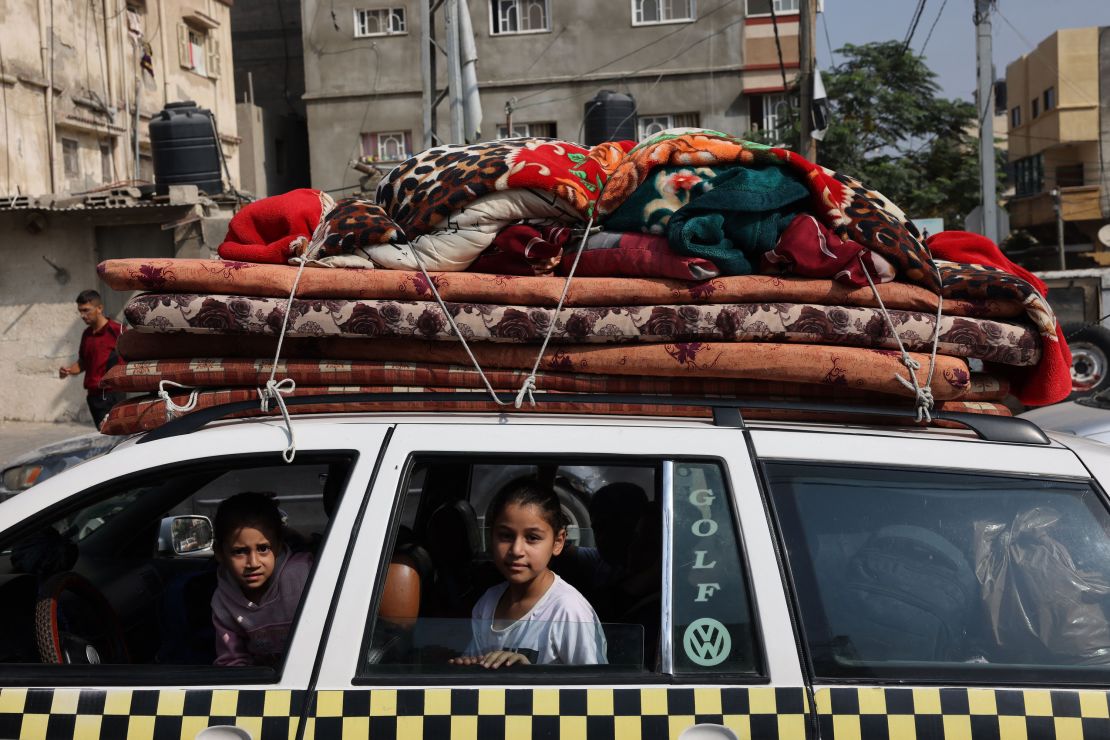 Netanyahu said his government's aims were to destroy the "military and governing capabilities" of Hamas and to rescue the more than 200 hostages that the militant group captured during the October 7 terror attack on Israel that sparked the latest conflict.
Israeli officials on Saturday confirmed a significant expansion of what it had described as "targeted raids" in the Hamas-governed Palestinian enclave of Gaza earlier in the week, saying ground forces had entered the territory overnight Friday.
"We attacked above ground and below ground. We attacked terrorist operatives at all levels, in all places," Israel's Defense Minister Yoav Gallant said in a joint appearance with Netanyahu Saturday.
CNN reporters near the Israel-Gaza border described an "eruption of activity." From Sderot, Israel, Nic Robertson noted fighter jets, artillery fire and "huge flashes on the horizon" in the direction of Gaza on Saturday evening, in an apparent "step-up" from activity on the previous night.
In a statement Sunday, IDF said it had struck more than 450 targets over the past day, including command centers, observation posts and missile launch sites.
The ground incursion and intensified bombardment come as international calls for a ceasefire grow louder, with 120 nations at the UN calling on Friday for a "sustained humanitarian truce" in Gaza.
At least 7,950 people have been killed and more than 20,000 others injured in Israeli attacks on Gaza since October 7, according to the latest figures released by the Palestinian Ministry of Health in Ramallah, which draws from sources in the Hamas-controlled enclave.
Hamas' initial surprise attacks on Israel earlier in the month killed more than 1,400 people, most of them civilians.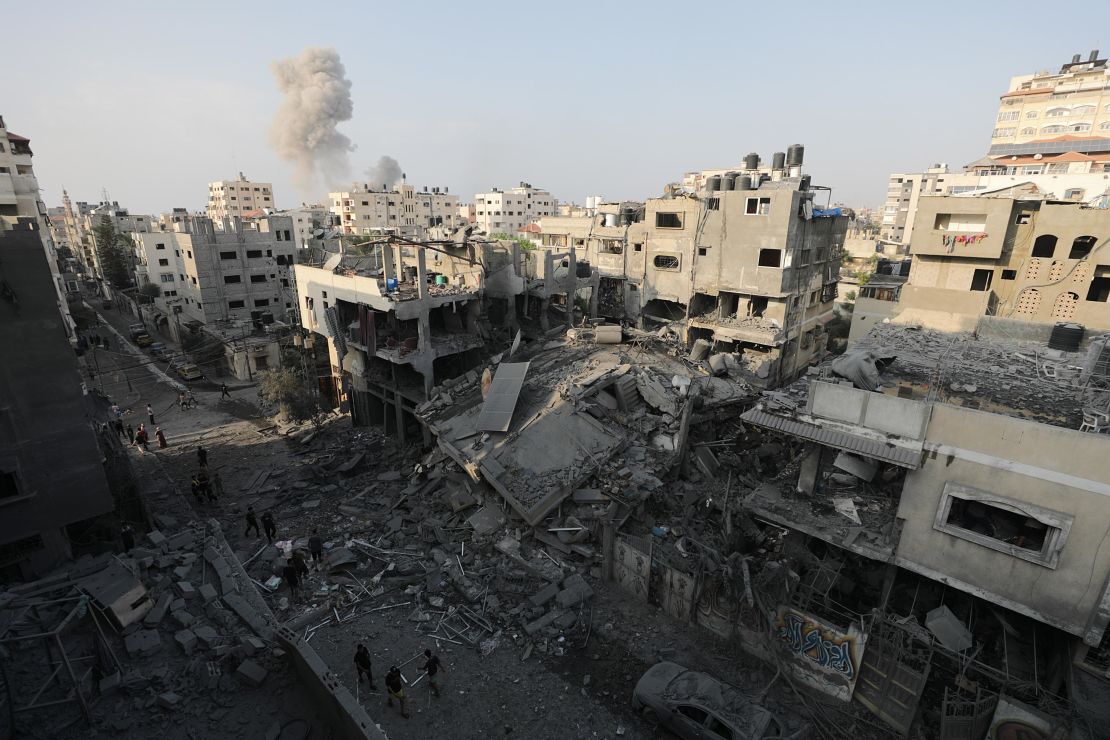 On Saturday, the UN said Israeli airstrikes had left healthcare facilities in Gaza without electricity and civilians across the enclave virtually "cut off from the outside world."
Already dire conditions inside the strip cratered further after communications went down in the area Friday evening — deepening challenges for medical services and leaving aid agencies out of touch with their staff on the ground in the densely populated territory that's home to more than 2 million people. Communications were partly restored on Sunday morning, according to two service providers and a monitoring group.
Israel ordered the "complete siege" of Gaza in the wake of the October 7 attack.
A humanitarian ceasefire could facilitate the "necessary massive scale up" in delivery of aid to people in Gaza, the UN said.
Some 94 aid trucks have entered Gaza via the Rafah crossing so far, according to the Palestinian Red Crescent, after 10 trucks containing food and medical supplies entered Gaza on Sunday.
IDF spokesperson Hagari said in a video posted to the group's official social media on Sunday that "humanitarian efforts to Gaza, led by Egypt and the United States will be expanding" on Monday, without providing further details.
The Israeli military has denied shortages of food, water or medicine in Gaza, despite a growing chorus of aid agencies releasing dire warnings about shortages.
In its Saturday statement, the UN added that a ceasefire could facilitate the release of Israeli hostages held in Gaza.
Israel is still working to determine exactly how many people are being held hostage in Gaza, but the IDF said Saturday they had notified the families of 230 people believed to currently be captive there.
The Israeli government has been under public pressure to ensure the safety of the hostages amid its escalating campaign against Hamas, with senior officials portraying the intensifying campaign as part of a strategy to secure their release.
Yahya Al-Sinwar, the chief of Hamas in the Gaza Strip, said Saturday the group was ready to initiate a comprehensive prisoner swap to release all hostages held by his group in exchange for the estimated 6,630 Palestinians in Israeli prisons — a proposition that could be hugely controversial in Israel.
'Serious implications' on regional peace
In the wake of the ramped up Israeli operations in Gaza, Saudi Arabia, Egypt and Iran have each warned of destabilization in regional security if Israel continues its ground operations.
Saudi Arabia "condemns and denounces any ground incursions" by Israeli forces into Gaza due to the impact on civilians, the country's foreign ministry wrote in a Saturday statement.
Israeli military action "against (Saudi Arabia's) brotherly Palestinian People" would have "serious implications on the stability of the area and the international and regional peace and security," the statement said.
Egyptian President Abdel Fattah Al-Sisi warned on Saturday that the Middle East "will become a ticking time bomb" and that the "expansion of the conflict" was not in the region's interest.
Iranian President Ebrahim Raisi said on Sunday that Israel had "crossed the red lines" in Gaza, which "may force everyone to take action."
"Washington asks us to not do anything, but they keep giving widespread support to Israel," Raisi said in a post on X, formerly known as Twitter.
Palestinian Authority President Mahmoud Abbas called on the leaders of Arab nations to convene an emergency Arab League summit in response to Israel's operation in Gaza, according to a speech delivered from Ramallah in the occupied West Bank on Saturday.
Citing the UN resolution calling for a humanitarian truce, Abbas said Israel responded "with more bombing and destruction."
This story is developing and is being updated.
CNN's Eyad Kourdi, Benjamin Brown, Chris Liakos, Sarah Sirgany, Jomana Karadsheh, Abeer Salman, Paul Murphy, Lucas Lilieholm, Amarachi Orie, Zahid Mahmood, Ivana Kottasová, Kareem Khadder, Radina Gigova, Eve Brennan, Richard Allen Greene, Manveena Suri and Lauren Said-Moorhouse contributed reporting.