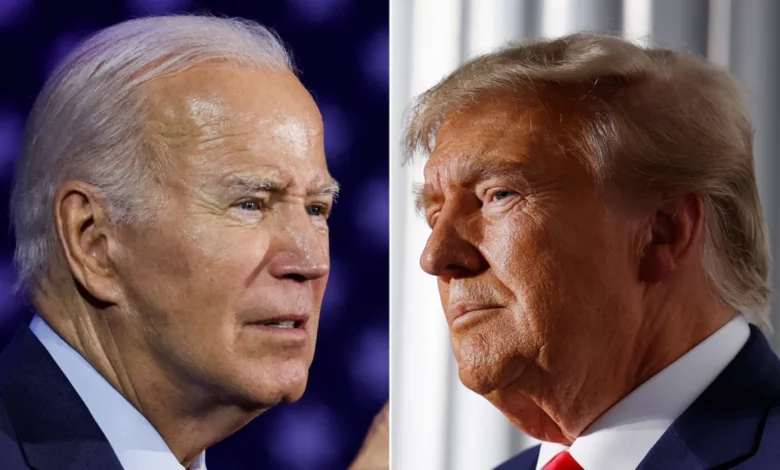 President Joe Biden on Tuesday told campaign donors that his likely 2024 opponent Donald Trump was using language similar to the Nazis and would use his presidency for "revenge and retribution" if elected to another term.
"There's a lot of reasons to be against Donald Trump," Biden told donors in San Francisco, according to a pool report, "but damn he shouldn't be president."
He singled out Trump's recent use of the word "vermin" to describe his political rivals, likening it to Nazi terminology. The former president's use of the word amounted to "a specific phrase because it's just a specific meaning," Biden told the donors, recalling "language you heard in Nazi Germany in the 30s."
In a speech in New Hampshire over the weekend, Trump, the GOP presidential front-runner, told a crowd: "We will root out the communists, Marxists, fascists and the radical left thugs that live like vermin within the confines of our country," and warned that "the real threat is not from the radical right. The real threat is from the radical left, and it's growing every day."
Biden also pointed to Trump's recent rhetoric that undocumented immigrants were "poisoning the blood of our country."
"Trump also recently talked about blood of America has been poisoned. The blood in America has been poisoned," Biden said. "Again, echoes the same phrases used in Nazi Germany."
The president also criticized Trump for his verbal attacks on Paul Pelosi. The husband of former House Speaker Nancy Pelosi took the stand in federal court this week to speak publicly for the first time about the violent attack he suffered in their San Francisco home last year.
"On more than one occasion in recent weeks, he's made a joke about the assaults on Nancy Pelosi's husband," Biden said. "There's no place in America for political violence."
He also assailed Trump on his jobs record, suggesting it was akin to Herbert Hoover's record: "Only two lost jobs during the presidency. That's why now and then we remember him as Donald Hoover Trump."
And he tied Trump to the Supreme Court's overturning of Roe v. Wade that eliminated the constitutional right to abortion nationwide, saying women voters would remind him of that record next year.
"The only reason there is an abortion ban in America is because of Donald Trump," he said, according to the pool report.
"The only reason that fundamental right was stripped away from American people for the first time in American history is because of Donald Trump," Biden went on. "And just as all his Republican friends have found out about the power of women in America, Donald Trump is about to find out about the power of women."
Biden took credit for last week's election results – "a pretty good day for Joe," he said – and insisted the outcome was a signal his agenda was resonating.
"What happened in those races is not unusual in the kind, in the continuation of what we saw in 2020 when we were told we weren't gonna win," he said. "And again 2022, when we were supposed to get wiped out, remember? But some pundits said the same thing."
"Folks, this is the Biden-Harris agenda," he went on. "And that agenda not only is popular, people are voting for it. Winning elections over and over again. The press and pundits can keep being surprised as much as they want. But since I came off the sidelines to go toe-to-toe with Donald Trump, we haven't stopped running and he hasn't stopped losing."
"Remember when Trump told us he was going to win so much we'd get tired of winning?" he asked. "Oh, man. I shouldn't get started. Let me tell you one thing is true. We got tired of Trump. Truth is, the guy can't get tired of losing."