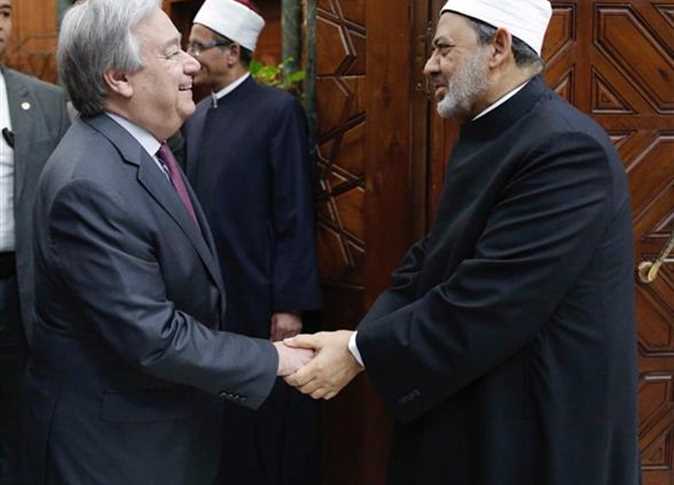 Al-Azhar Grand Sheikh Ahmed al-Tayyeb met on Tuesday with UN Secretary-General Antonio Guterres during his visit to Cairo, where they discussed joint efforts towards world peace and confronting terrorism.
Tayyeb expressed Azhar's readiness to cooperate with the UN to work together in reaching world peace and achieving equality among all human beings.
He expressed hope that the UN would successfully play its role with the presence of a wise and experienced person such as Guterres at the head of the UN Secretariat.
Azhar carries a universal message of peace between all human beings, Tayyed said, adding that it plays a great role in confronting terrorism and establishing the principles of brotherhood, equality and justice.
He pointed out that Azhar not only trains Muslim imams and preachers, but receives students from all over the world to educate them on this message of peace.
Guterres expressed condolences to the Grand Sheikh of Al-Azhar and the Islamic world over the victims of the recent terrorist incident against Muslims in New Zealand.
He said that he chose to offer his condolences towards Azhar directly, as it is the largest representative of Muslims world-wide and enjoys international prestige.
Islam is subjected to vicious slander aimed at distorting it's message and accusing it of terrorism, Guterres said, even though most victims of terrorism are Arabs and Muslims. He lamented that the world sees so many political wars using the name of religion to achieve external interests while shedding the blood of innocent people.
Guterres stressed that the voice of the Grand Imam is very important, representing a model for the real face of Islam. He added that Tayyeb's initiative to hold dialogue with religious institutions around the world, especially the Vatican, helps further peace and coexistence.
He said that the whole world, and not only Muslims need the voice of the Grand Imam, who represents wisdom and peace. He called on the United Nations Alliance of Civilizations (UNAOC) to visit Al-Azhar and benefit from its pioneering experience in religious tolerance and coexistence.
The UN Secretary-General said that the document of Human Fraternity for World Peace signed by the Grand Imam and the Pope of the Vatican is of universal importance, as it refutes the causes of extremism and defends the name of Islam and Christianity.
He added that the UN would use this document to promote world peace and security.