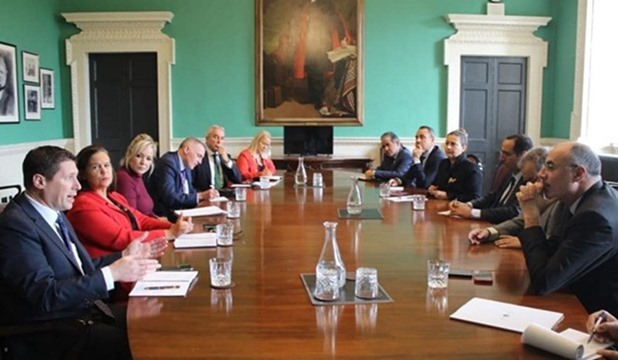 The Arab ambassadors accredited in Dublin asserted the complete responsibility of the international community to immediately intervene to reach a ceasefire and protect civilians in Gaza.
That came at a meeting they held with Egyptian Ambassador to Ireland Mohamed Sarwat Selim and Irish President Michael D Higgins.
The Arab diplomats discussed the latest developments of the Israeli aggression on civilians in the Gaza Strip and catastrophic repercussions of non-delivery of humanitarian and relief aid and supplies to Gazans.
They highlighted the serious humanitarian consequences due to the Israeli non-stop shelling and the continuation of the status quo in the occupied Palestinian lands and their toll on the situation in the region.
The ambassadors condemned attempts of forced displacement of Palestinians, which, they said will have its toll on the security and stability in the Middle East region.
They underscored the necessity of meeting aspirations and rights of the Palestinian people with the achievement of just and comprehensive peace and stopping bloodshed through the establishment of an independent Palestinian state within the framework of the two-state solution principle.
The diplomats appreciated Ireland's position that is urging an immediate ceasefire for humanitarian causes.
The Foreign Ministry said on "Facebook" that Selim participated in meetings of the African group and the Arab group with Irish officials to rally up the Irish support for Palestinian legitimate rights.