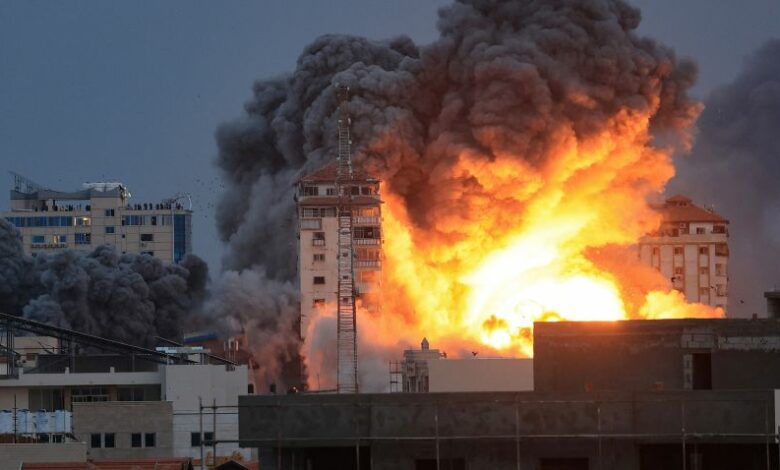 The former Secretary-General of the League of Arab States, Amr Moussa, said that an Israeli government minister's suggestion to use nuclear weapons against Gaza and Hamas can be considered the first proper admission by a senior Israeli official that Israel possesses nuclear weapons.
Israeli Heritage Minister Amichai Eliyahu on Sunday suggested that dropping a nuclear bomb on the Gaza Strip is "an option."
In a Facebook post on Sunday, Moussa added that the Israeli minister's statement not only raises the possibility of threatening nuclear weapons, but suggests that the existing extremist government can use them.
He called on the Arab League to record the statement and report it officially to the Secretary-General of the United Nations and to the President of the Security Council, in order to take the necessary measures on this dangerous development to the agencies concerned with nuclear non-proliferation and disarmament.
Ambassador Jamal Rushdie, the spokesperson for the Secretary-General of the League of Arab States, echoed the sentiment on the Israeli threat.
He said that the extremist Israeli minister's talk is pure nonsense, and his presence within the Israeli government reveals the true nature of the most extreme right-wing government in Israel's history.
During a phone call with Al-Qahera News Channel, he added that the Israeli government's response to suspending the Minister of Heritage from attending meetings is a weak response, and reveals the nature of the people who make military decisions in Gaza.
These statements are a warning bell to the world that we are facing an extremely extremist, hateful, and racist group, Rushdie added.
Secretary-General Ahmed Aboul Gheit also confirmed that this statement is considered an official recognition of Israel's possession of nuclear weapons, Rushdie said, with all the consequences that this official recognition entails.
"Now we are pressing to save the humanitarian situation in Gaza," he warned.
Israel's nuclear capabilities
The Israeli minister's statements have raised questions about Israel's nuclear capabilities and the size of its arsenal.
Recent estimates announced by the Federation of American Scientists (FAS) this year indicate that Israel possesses 90 nuclear bombs in its nuclear arsenal – making it one of the most dangerous nuclear weapons arsenals in the world.
Although Israel has not signed the Nuclear Non-Proliferation Treaty, other reports indicate that the size of its nuclear arsenal is likely larger than announced.
According to FAS estimates, Israel ranks eighth globally in terms of possessing nuclear power after Russia, the US, China, France, the UK, Pakistan, and India.
Among these countries, Russia, the US, Britain, France, and China openly declare that they possess nuclear weapons.
On the other hand, Israel, Pakistan, India, and North Korea are reported to deliberately hide the matter intentionally and do not acknowledge it officially.