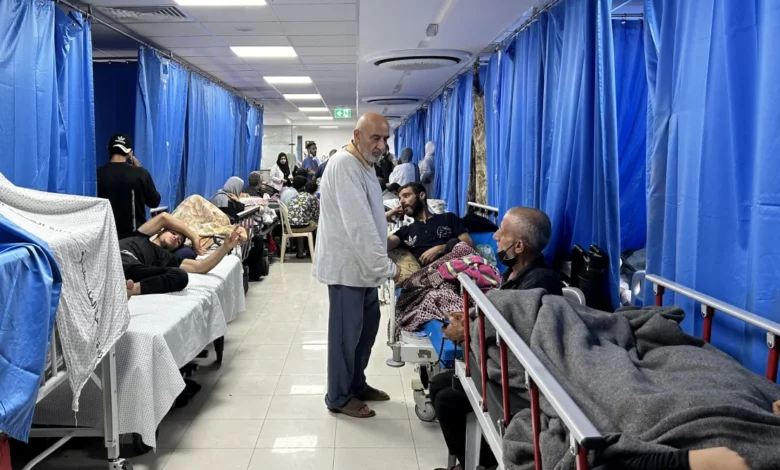 The Ministry of Health in Gaza announced that it was forced to bury 100-120 bodies in a mass grave inside the Al-Shifa Medical Complex, due to the siege imposed on it.
The spokesperson for Gaza's Ministry of Health, Ashraf al-Qudra said that the number of dead is likely to increase due to the inability to provide medical care for the sick and wounded, especially among premature children.
Qudra warned that everyone in the complex faces death due to the lack of necessities such as water and food.
The director of Al-Shifa Medical Complex, Muhammad Abu-Salmiya, said that they were forced to take the decision after the bodies began to decompose.
Medical system collapses
The Director General of Gaza Hospitals, Muhammad Zaqout announced that hospitals in the southern Gaza Strip have begun to go out of service.
Occupation warplanes violently bombed the western areas of the Baptist Hospital in Gaza City, and dropped phosphorus and lighting bombs there which led to a power outage in parts of the hospital due to damage to the solar energy cells and a lack of fuel.
UNRWA spokesperson Adnan Abu-Hasna said that 101 of the agency's employees in the Gaza Strip were killed, noting that never before in the history of the UN has this number of its employees been killed in one month.
The Human Rights Watch said that it is working to collect and analyze evidence regarding crimes against hospitals, and stressed that the Israeli army should not approach hospitals and medical infrastructure.
The United Nations Food and Agriculture Organization (FAO) announced in a statement that all Gaza residents now suffer from "food insecurity."
The World Health Organization said that it documented 135 attacks on health facilities in Gaza during the past month, noting that it had received appeals from within Al-Shifa Hospital demanding medical and food support.
It added that 25 hospitals out of 35 in the Gaza Strip stopped working, as well as 51 care centers out of 72, due to damage caused by bombing or lack of fuel.
The World Health Organization documented up to 135 attacks on health facilities.