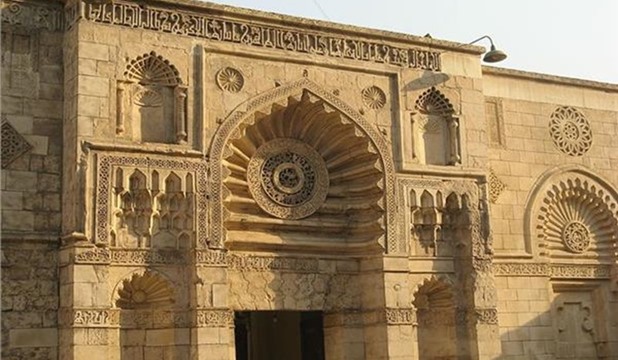 Al Aqmar mosque, located on al-Muizz Street and commissioned by the Fatimid Caliph al-Amir bi-Ahkam Allah in 519 AH/ 1125 AD, will be inaugurated on Sunday after the end of restoration works.
The mosque is one of series of mosques being developed by the Tourism Ministry represented by the Supreme Council of Antiquities to restore landmarks in Historic Cairo.
The mosque's construction was supervised by the Vizier al-Ma'mun al-Bata'ihi, and it was renewed during the reign of Sultan Barquq in 799 AH/ 1397 AD under the supervision of Prince Yalbugha al-Salmi.
The mosque is an important monument of Fatimid architecture and of historic Cairo due to the exceptional decoration of its exterior façade and the innovative design of its floor plan.
The mosque of al Aqmar is the first building in Cairo with an adjustment to the street alignment. The plan of the mosque of al-Aqmar is hypostyle, with an internal square courtyard surrounded by roofed sections defined by rows of four-centered arches.
Inside, the mosque flaunts an extensive prayer hall, a lavish mihrab, and intricately cut wooden screens. Numerous yards encompass the mosque, fixed with arcades and specked with wellsprings and vegetation, making a tranquil and peaceful climate.
The mosque houses a striking assortment of Islamic craftsmanship and relics that mirror the extravagance and variety of the Islamic world's social legacy. The assortment incorporates calligraphy, pottery, metalwork, materials, and gems, all fastidiously safeguarded and shown in the mosque's gallery.
Of exceptional note is the assortment of Islamic calligraphy, which grandstands intriguing instances of early Islamic content from the ninth and tenth hundreds of years.
The mosque's clay assortment includes bowls, plates, and containers decorated with complicated examples and plans, each with its own exceptional story to tell.
Renovation included architectural restoration as well as maintenance to protect the walls of the mosque from the effects of moisture and salts.