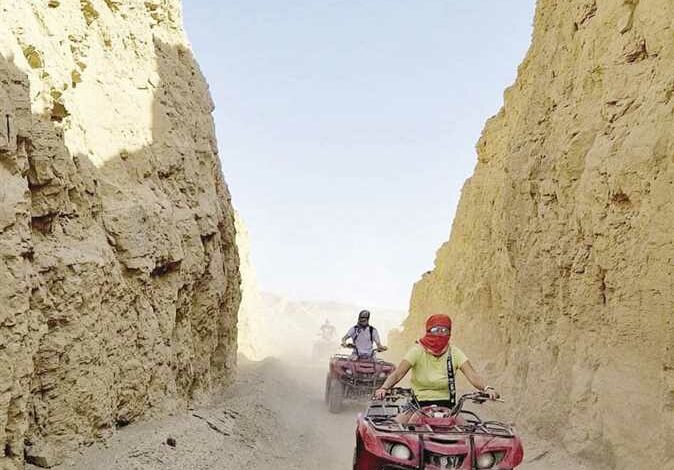 Abandoned phosphate extraction mines have attracted mountain safari lovers to the village of Umm al-Huwaitat in Safaga, the first mining village in Egypt.
It dates back about 100 years and is located about 20 kilometers from the Red Sea coast inside the Eastern Desert.
At the beginning of the new millennium, workers and residents abandoned the village after the cessation of phosphate ore extraction, and the closure and liquidation of the company.
Safari tourism trips to the tunnels, mines, and caves from which phosphate is extracted restored the fame and history of the village–even after it had become ruined–by introducing foreign tourists to its mining history and organizing safari trips for them.
These tours provide a host of unique activities, including watching the sunset and sunrise, learning about the stars and planets at night, and taking a tourist tour of the abandoned village.
The ghost town is now a tourist landmark, whose details are told by villagers in the tourist tours.
A tour of the abandoned tunnels and mines reveals the silent landmarks that once attract residents and workers to the Red sea for decades, and now serve as tourist attractions. These include ascending the minaret of the mosque as well as exploring the deep mines.
People from the village confirm that the story of Umm Al-Huwaitat, which once ended with the extraction of phosphate, the liquidation of the company, and the displacement of the workers, now sees new life though safari tourism.
The village has allured tourists to this region and resulted in creating a unique experience that recounts the decades-long history of the village's mining operations.
Edited translation from Al-Masry Al-Youm